Do you have any confusion between onions and shallots, like me? Is a shallot an onion? What does a shallot look like? Then, scroll down more to solve this confusion with a clear-cut description.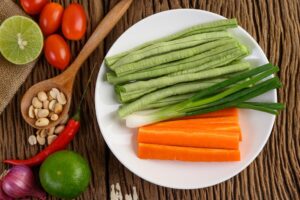 You will often see a vegetable like an onion in the grocery store. It looks like a yellow onion but not an onion. It is called shallots, which are used as a substitute for Onions.
Shallot is an essential and healthy food ingredient for every kitchen and pantry. Fresh shallots add an extra soft and sweet flavor to every dish.
From cooking to garnishing, it is an essential ingredient for your kitchen. You can eat it raw as a healthy food ingredient and work as a supportive building block for roasting.
Whats a Shallot?
A Shallot is a vegetable that belongs to the allium family. It looks small in size and very close to onions and chives.
Its name came from the ancient coastal city Ashkelon, located on the bank of Israel. People claimed that shallots were first produced here.
But shallot is first produced in Southwest Asia or Central Asia. It has coppery or papery pink skin, and the bulbs look very similar to cloves of garlic.
The vegetable is mainly used for garnishing a variety of dishes. It tastes like a soft onion with a sharp current, or sometimes it gives you the flavor of garlic. They have also been used to seasoning the vinaigrettes.
Types of Shallots
A shallot might be the same as the onions but doesn't taste like a regular onion. It provides a mild flavor and adds more delicacy to all dishes.
However, you can use it in the place of onions and vice versa.
3 types of Shallots can be found in the market. Just check them out in the following.
Usually, we can see three major types of shallots:
1. French grey shallot
French Grey Shallots, also called Giselle, are considered as actual shallots. Because it provides the real taste, aroma, and softer flavor.
It was first developed in France, and from that time, it is used as a substitute for piquant sauces in various French dishes.
The texture varies from golden brown to grey and red. It is one of the highly demandable ingredients to every home cookers, chef, and food lover.
A long bulb covered with grey skin and delightful pink-purple flesh offers savories flavor, easily beating the tasty onion flavor.
It is not only the absolute gastronomic variation but also known as "true" shallot.
2. Jersey shallot
The pink or Jersey shallots can be found in various forms, but every type is available with yellow or purple bulbs.
It comes up with a rosier color and provides a strong flavor near to the onion. These shallots are the most popular that can be seen in the United States grocery stores and supermarkets.
They are just as delicious as the French grey shallots and considered a variation of in-between garlic and onion, as sweet as onion, but less sharp than garlic.
3. Echalion
Echalion shallots or Banana shallots are one kind of variation between onion and shallots. They are more extensive but less fleshy than other types of shallots.
These Banana shallots provide lots of the best food benefits than any related vegetable, such as longer in size than onion and softer flavor like a shallot.
It is effortless to peel off than a regular shallot and outcome of a nuanced combination of the shallot and onion's inner properties.
From both of them, the Echalion has preserved only the most vital traits. These big, oval bulbs possess amber-colored skin.
You can easily peel from its back to expose its juicy, white flesh. The mixture lends the simplicity of the onion with the soft, delicate flavor of the shallot.
Shallots vs Green Onion?
There are many similarities between the shallots and green onions by their appearance. You will almost get confused with both of them.
Green onion is large and thin, covered with green leaves. There is a little white bulb at the end of it. You can often use it in different cooking.
Whereas shallots are small in size and have pink-purple skin. Also, it provides a standard texture and sharp flavor than onions. Its white meat offers a similar delicious bite close to the onion.
Shallots are often considered scallion in some of the areas of the United States. In Louisiana, you can observe it most. Early French settlers liked to use shallots as the substitute for green onions, and that's why the confusion happens.
1 Shallot Equals How Much Onion?
When you are planning to cook with shallots, try to substitute it for onion. It will help you to preserve the flavor and benefits in the right quantity in the recipe.
1 small onion is equivalent to 3-4 shallots. The size of the shallots can be varied. So, always try to balance the number of shallots with an onion.
How to Cut Shallots in 4 Steps
How to cut shallots depends on the recipe which you are planning to prepare.
Here, we will discuss the steps by which you can finely chop shallots. So, look into it in the following: –
Firstly, clear the papery skin, soil, dirt, and roots from the shallots. Now it's time to chop your shallots nicely.
Try to cut its side half down and stop while you reach the end of its root.
It will help you to keep the layers together, and you can experience an easier slicing. Always try to use the tip of the knife to chop.
Don't forget to make a single cut on your shallot from tip to root parallel to dice it finely. Now, to chop across the shallot, use the base of the knife.
What Does a Shallot Look Like?
A shallot looks like an onion, but the difference between them needs to be solved. The following attributes can easily define fresh shallots:
Shallots are small in looking.
The outer shell looks like coppery-pink and papery.
The flesh inside the shallots is white and pale purple.
The bulbs of shallots mainly develop in clusters, very much similar to cloves of garlic.
When you are going to shop for shallots, take the bulb with a sold texture.
what Does Shallots Taste Like
A shallot is small and has a soft flavor to offer you. It is more exquisite than a regular onion.
They are often used as a substitute for usual onions and vice versa. That's why there is confusion between shallots and onion.
How to Use Shallots
You can use shallots to make various dishes, from Asian cuisine to American and French. For different preparations, you can tune its taste to different frequencies, from sharp to sweet.
You can use it as a substitute for onions and more than that. It is also best for its flavor in recipes:
Chop the shallots finely.
You can slice it into rings and then fry it in the oil. Fried shallots are also tasty as fried onions.
You can roast the shallots with its whole. Either with its skins or after peeling its papery skin.
You can make a tasty pickle with these sharp and sour shallots.
Raw shallots can be the best ingredient to be used as a topping. Chop it finely and sprinkle it on the dish to be garnished. Also, use it as a salad dressing. Similar to spring onions, the fresh, green tops of shallots can be used as an aromatic seasoning.
What Are Good Substitutes for Shallots?
If you are looking for shallots and are not available in your kitchen, don't worry. Easily you can substitute the shallots in your recipe with a close member of this family onion:
Green onions
Red onions
Sweet onions (including Maui onions or Vidalia onions)
Garlic scrapes
Leeks
Caramelized Shallots Recipe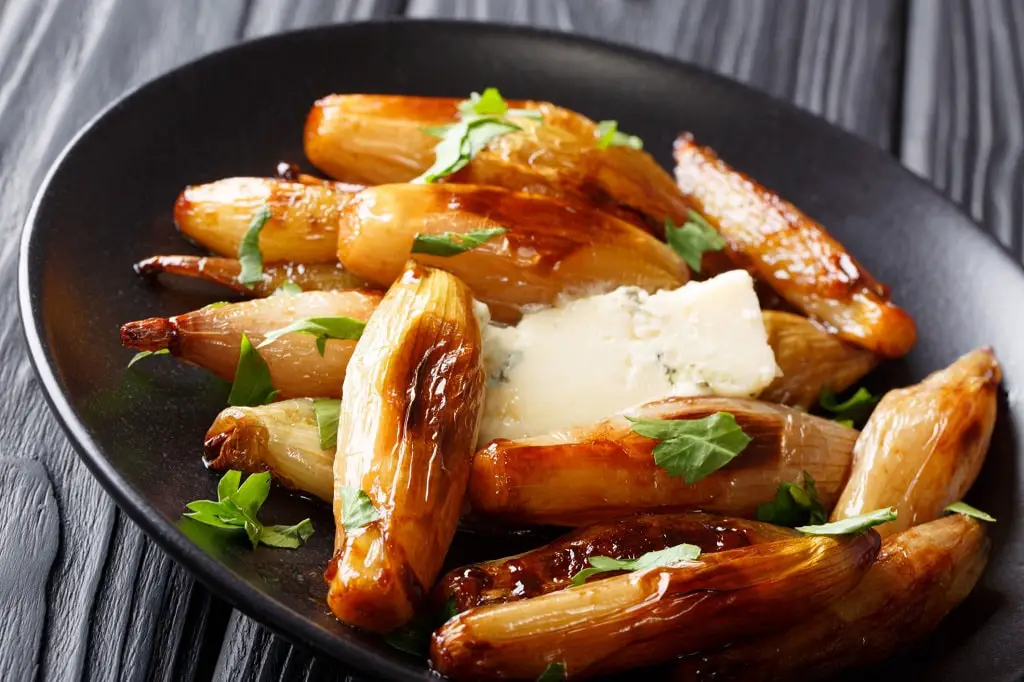 Preparation Time: 45 Minutes
Serves: 04 Persons
Cook the shallots with the proper ingredients and prepare the dish with a mild and flavorful texture. Caramelized shallots are best to be served with numerous foods. It's not only delicious, mouth-watering too.
Ingredients You Need :
Brown sugar : 1 tbsp
Garlic powder : 1 tbsp
Paprika : 1 tbsp
Kosher salt : 1 tbsp
Black pepper : as required
Sliced lemon : as required
Boneless chicken skin peeled off : as required
Parsley : as required
Extra-virgin olive oil : as required
Preparation Method :

Preheat the oven to 165* f. In a bowl, combine black sugar, garlic powder, paprika, kosher salt and pepper. Clean the chicken thoroughly and coat with the seasoning throughout the meat. Coat it generously and scatter off the excess.
Now place the marinade-chicken rubbed with extra-virgin olive oil and place on the oven.
Start baking mode and remain until the chicken cooked-through or wait it spots 165*F. Almost 25 minutes taken for the process.
Remove the dish out of oven let aside, for 5 minutes, wrapped in the aluminium foil. This resting period allow the meat blend with juice giving a tongue-licking taste. Enjoy, serving the chicken breasts garnished with parsley, optional.
6 Health Benefits of Shallots
It has high anti-oxidants compounds, which will help us protect our cells from damage by free radicals.
Shallots offer antiviral, antibacterial, and antifungal properties that keep us healthy and fit.
Shallots help to prevent the release of allergic hormones from our cells and relieve us from allergy or itchiness.
Shallots are beneficial for proper blood-circulation and a healthy heart.
It helps to decrease blood sugar levels.
Help to avoid excess fat storage in the body and reduce overall body fat.