This post contains affiliate links. When you buy through our links, we may earn a commission.
Green onions are known to add up crunch, color, and flavor to different dishes; these include salads, salsas, and stir-fries. They make a perfect choice when it comes to stews, nachos, casseroles, and a lot more. Here are steps to adopt to cut green onions into different slices to get them tossed into a variety of savory recipes.
Scallions or (scallions and green onions are the same) the vegetables are known to add texture and flavor to different recipes. And a proper slice will be an added advantage to your kitchen skill. Unlike most traditional onions, green onions are shaped differently; this makes it a bit tricky to know the right spot for the first cut.
In this article, you will learn how to cut green onions skillfully, get some additional tips on how to add vegetables to your recipes, and the proper way to store green onions and have them last for a while.
How To Prep Green Onions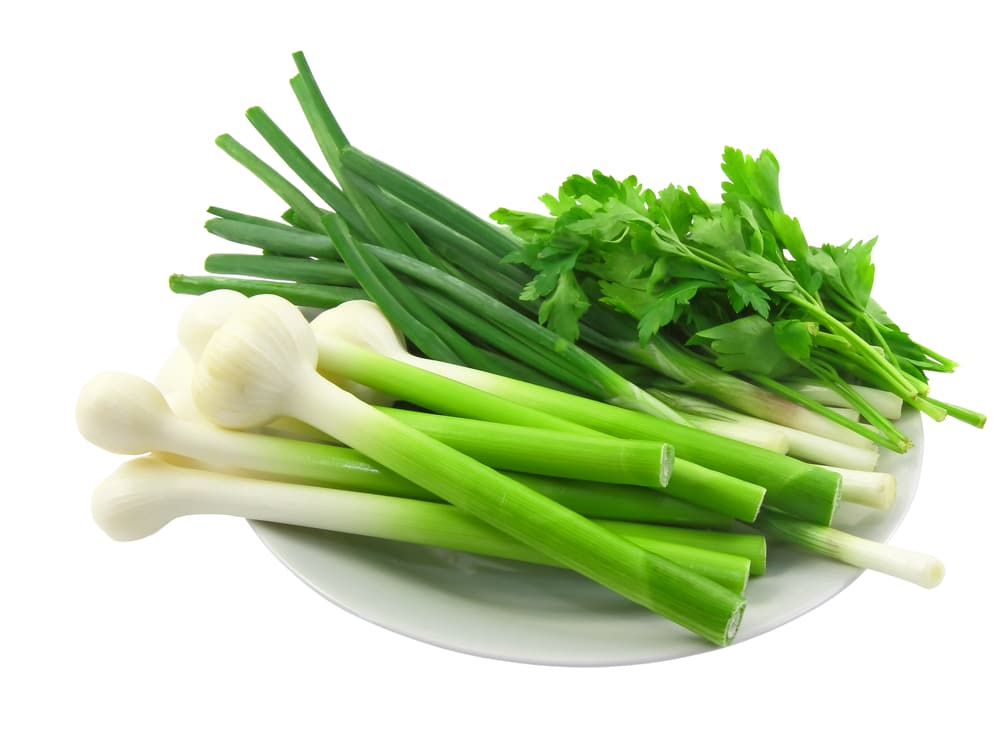 Try to avoid green onions, and at the same time, keep your food safe by adhering to these steps when preparing your green onions before you proceed to add them to a recipe.
Use a cool flowing tap water to rinse the onion, and do ensure all forms of wilted or damaged parts; slimy skins are removed.
Lay enough onions on a surface. Use a chef knife neat off all the stringy root on the onion; you can do this by slicing 1/8 to ¼ a bit further away from the roots.
Dispose of the roots.
Now proceed to trim about inches from the green part of the onions. Afterward, discard the tops.
Green Onion Selection and Storage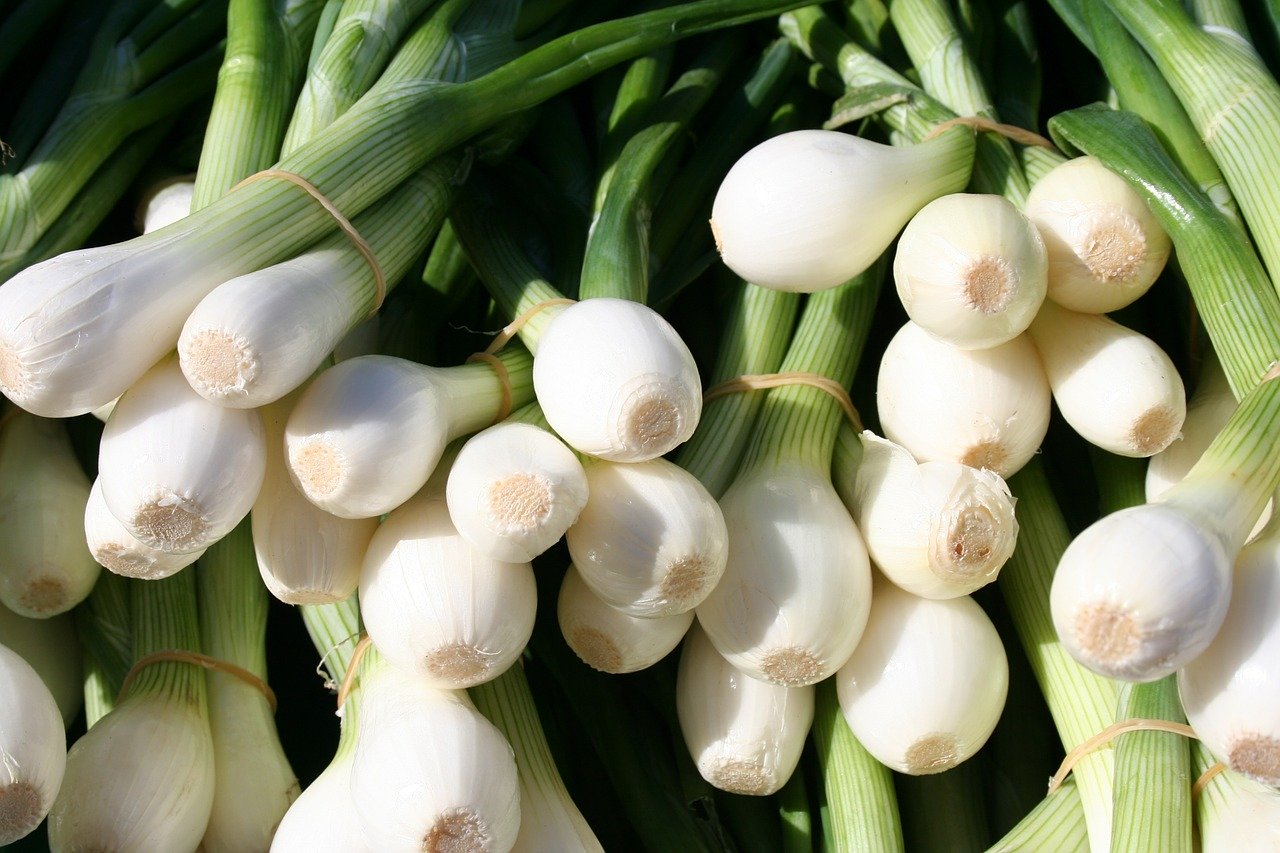 You can find green onions all through the year in most markets or better still have it grown within the comfort of your home. They have straight and long leaves, which are most times bulbous in shape. Both the green leaves and white base onions are edible. We recommend you go for onions with fresh green looks and clean white bud ends.
You can store green onion wrapped in a clean plastic bag, and freeze it in the refrigerator, all things being equal; the vegetable can last for 4 – 5 days.
When you're out to get green onions for your recipe, note that a medium-sized onion is equivalent to two tablespoons of sliced green onions. You can also grow green onions around the sill of your window; this can be done using roots from other green onions.
They are also called spring onions, although there is a bit of difference between the two onions. Spring onions are most time found at the beginnings of a bulbous base but are often harvested before their base gets developed into mature onions.
If you need an alternative to green onions, then you can go for spring onions, although they give out more flavor, so it is best to add a bit lesser than what is required in the recipe.
How to Prepare Green Onions for Cutting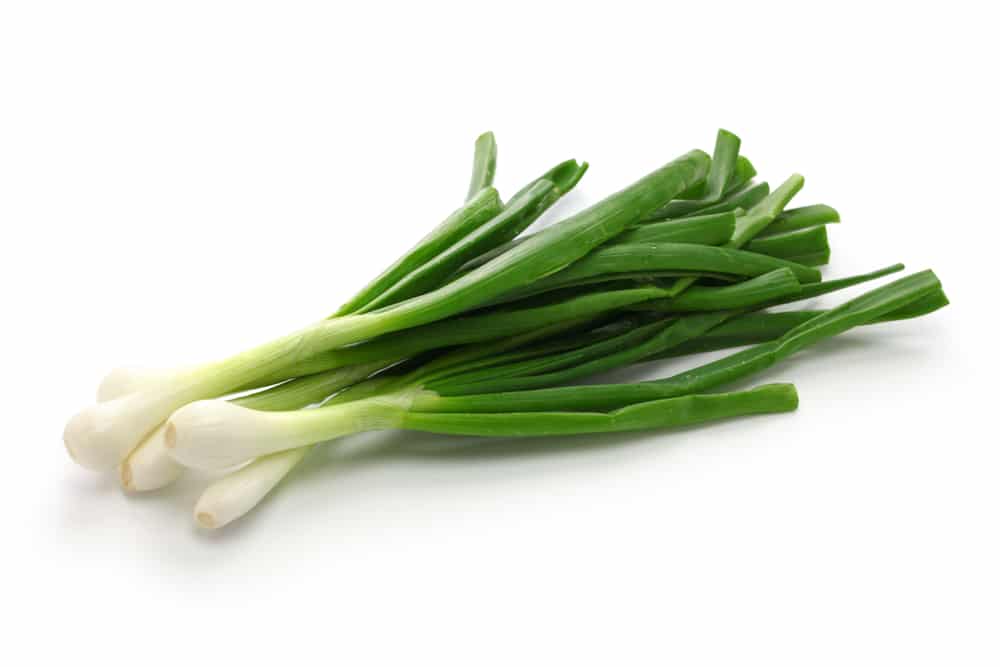 Scallions can be cut in different ways; the best method to use depends on the type of dish.
The first on the list is pretty simple. This time you will end up creating tiny "coins" of scallion, which are important as adding flavor to your dishes.
Make sure the scallion is placed directly on the cutting board. Use your less dominant hand to hold it in place. Proceed by using your dominant hand to hold it while sliding your knife to and fro on the onion. While doing this, try as much as you can not to press it down.
Make sure the scallions are cut to maintain 1/8 inch of thickness. Although you can either increase or decrease the size in line with your current demand.
The second cut is to make scallion "hairs." This works perfectly for ramen garnish or salads. Due to the fine nature of the hair, they tend to produce less flavor compared to the flavor generated from other cuts.
You will have to slice all the scallion on a slant angle. This time hold your knife parallel to the position of the scallion.
You can make this to be thin or thick, depending on what you want. You can experiment to get a perfect look.
Finally, scallions can be cut into different chunks. You can use straight or slanted cut when it comes to stir-fry dishes. But make sure the chunks are about ¼ – ½ inch long.
You now know how to cut scallions; the next phase is how you can add them to your favorite dish. To add frozen leftover scallion, you will have to place the slice scallion on a metal baking sheet lined with parchment paper. Place it in the freezer and ensure it is completely frozen.
Make sure the scallions are enclosed in a bag that is freezer safe and can last for 9-12 months.
How to Cut Green Onions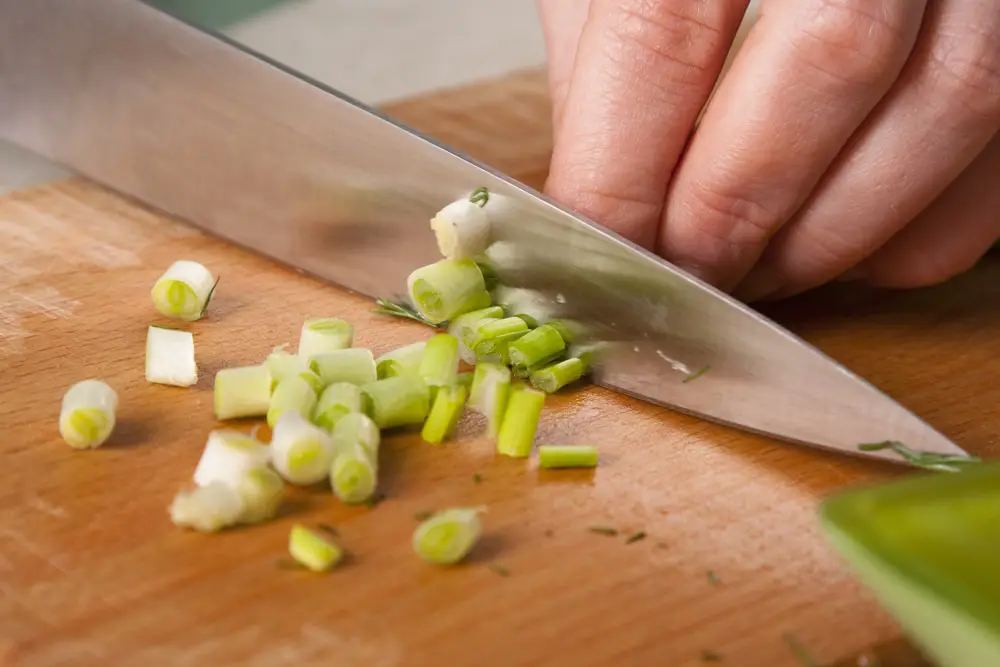 Using a chef's knife, trim the green part of the onions; this should be down crosswise. Proceed to slice the onions following a specified length, or adhere to the guidelines below.
For salads, salsas, garnishes, and other forms of recipes that do require cooking the onion, it's advisable to cut the onion into different thin and slice them into an approximate thickness of 1/8.
If it's a stir fry, you can cut the onions into 1- inches pieces.
If you intend to bias slice, cut the green onion maintaining an angle of 45 degrees. This style works perfectly for ½ to 1-inch slices.
For bite-size strips or julienne, trim and slice a medium-size green onion into a half-length. Ensure the onion is sliced crosswise into different halves with 1-2 inches size.
How to cut green onions – 4 Simple Steps
These steps will yield the perfect sliced onion that can be used on a variety of dishes. Get yourself prepared with the right knife and a suitable cutting board.
1. Sharp Knife
It is important to ensure your knife is well sharped to make the entire task pretty easy in order to cut the onion with just a slice action.
2. Rinse Green Onions
At this phase, we recommend you rinse the onions and ensure all the dirt is off the surface. Once you're done rinsing, shake it properly and reduce the water content.
3. Cut the Ends
Now bunch all the onions together. Make sure the end is cut off. It is best to ensure this is done with uniformity to get a professional appearance.
4. Cut into Slices
Grab the whole bunch and slice through. You can do this in a push-and-pull manner. Once you're done cutting the onion, you can proceed and taste it; this time, the white part of the onion will have more flavor than the green part. Use the green part to garnish your meal while the white part can be used for cookery.
Frequently Asked Questions (FAQ)
What part of a green onion do you cut?

For most dishes that are prepared using green onions or scallions, the pale green portion, and the white root are used.

Cutting the green leave can make a delicious garnish when preparing casseroles and soups.

How do you slice green onions?

You can use a chef's knife and chop off all the root ends and the tough part at the end of the green. Ensure the green onion is properly arranged then proceed to slice the onions using the chef's knife.

If the dish calls for scallions cut or green onions, you will need to incline the knife at an angle while slicing through with a similar movement pattern.

Can you pre-cut green onions?

When cut onions are infested by bacteria, it doesn't matter if you have them stored in the fridge or used at that moment; it makes you vulnerable to disease.

It's safe to eat old onions, in as much as it's not too old.
Conclusion
Aside from the nutritional benefits, green onions are a perfect choice to rely on when you intend to add flavor to any dish.
Although cutting style can vary depending on the type of dish, a touch of it makes will only make you appear more like a "professional chef." Please, feel free to share your comment in the box below.