This post contains affiliate links. When you buy through our links, we may earn a commission.
The German and Polish-inspired sausages, bratwurst and kielbasa, are both pork sausages from Europe that have gained popularity in America. 
Although they are typically used and prepared the same, some brands employ various seasonings that give off extremely diverse tastes.
Both similarities and differences may be found in their origins, ingredients, flavors, cooking methods, and cooking styles.
The main difference between the two is that bratwurst is sold fresh and requires cooking, but kielbasa is typically smoked and has a smoky flavor, and no need to cook.
That means you can have the smoky kielbasa directly without cooking, but you can't have the bratwurst. 
So, to bring out all the similarities and dissimilarities in a platform, we have prepared this article on the kielbasa vs bratwurst title. You can read all about the differences and similarities between bratwurst and kielbasa in the next section of the article.
So, don't wait, keep continuing your journey with us and enjoy the article!
Bratwurst & Kielbasa: Meaning of the Names in Origin
German sausage known as bratwurst has its roots in the Franconia area. The word combines "brat," which means minced or finely chopped, and "wurst," which means sausage. That meaning "finely chopped sausage" is what the word Bratwurst signifies.
On the other hand, the Polish sausage kielbasa is a hallmark of Polish culture and cuisine. Similar to how Germany is renowned for its bratwurst, Poland is famous for its kielbasa, albeit this term does not apply to just one kind of sausage. In fact, all sausages, in Polish, are referred to as kielbasa.
Bratwurst means finely chopped sausages, and kielbasa means all types of sausages.
How Bratwurst and Kielbasa Made Their Way to America
Polish immigrants brought kielbasa to America, where it is referred to by a variety of regional names, including kielbasy, kolbassa, kubasa, and others.
Bratwurst was introduced to America by German immigrants, much like kielbasa, and originally gained popularity in Wisconsin and the upper Midwest, where a large proportion of the population is of German descent.
Bratwurst and Kielbasa: Popular Types 
Coburger Bratwurst, Nürnberger Rostbratwurst, and Fränkische Bratwurst are a few of the most popular Franconian bratwurst sausages.
Additionally, some popular kielbasa variations include: Biala kielbasa, or white kielbasa, Kabanosy, Kielbaski Mysliwska, Serdelki, and Kielbasa Czosnkowa.
Kielbasa vs. Bratwurst: The Key Differences!
The Name
Among other names, kielbasa is also known as kielbasy, kolbassa, and kubasa in local tongues. where "brats" refers to bratwurst.
Varieties
There are more than 35 different kinds of brats available, but only around 15-20 different kinds of kielbasa varieties you'll find in local shops.
Availability of Different Variants
Besides pork meats, beef and turkey kielbasa have gained popularity and are now commonly available in America. But there is no such option for bratwurst.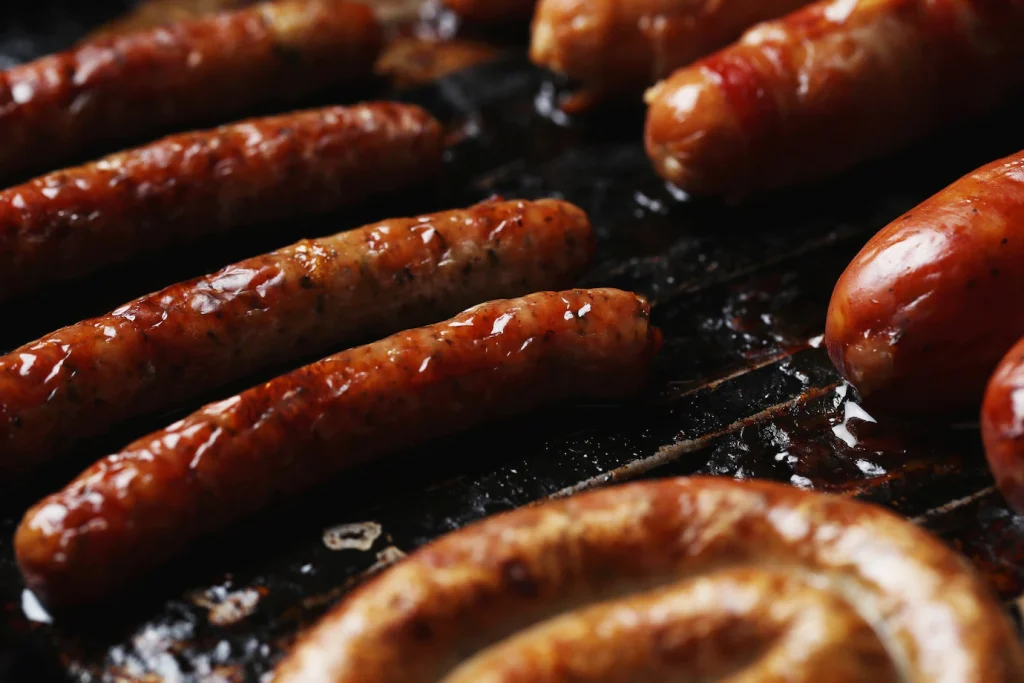 Smoky Flavor
You really don't need to put in any extra effort with charcoal to bring up that flavor because kielbasa already has a naturally smokey flavor. However, since brats are fresh, charcoal is necessary to enhance their flavor.
Seasonings & Spices
The flavor of kielbasa is largely derived from the smoking process and often contains fewer spices and herbs. Bratwurst, on the other hand, can have a wider choice of spices and seasonings.
Easy to Eat
kielbasa is a smoked type of sausage and doesn't need to be cooked further at home. You can eat it right out of the box.
On the other hand, Bratwurst must be prepared at home before eating because it is not a ready-to-eat type of sausage.
Flavor
Kielbasa has a very strong garlic flavor. On occasion, they will also include pimento, kosher salt, black pepper, and cloves in the sausage. However, caraway seeds, ginger, sage, and other spices are typically used to flavor bratwurst, except for garlic.
Most Suitable Sides
While grilled peppers and onions go great with kielbasa, beer-soaked bratwursts and sauerkraut are the finest.
So, these are some key differences between kielbasa and bratwurst. There are many more you will find when you practically use them in your kitchen.
Preparation Techniques: Kielbasa vs. Bratwurst 
Both kielbasa and bratwurst can be grilled, fried, cooked in the oven, boiled, or roasted, among other cooking methods.
But because they are all closely linked to certain cooking techniques, many Americans have learned to take them for granted on various occasions.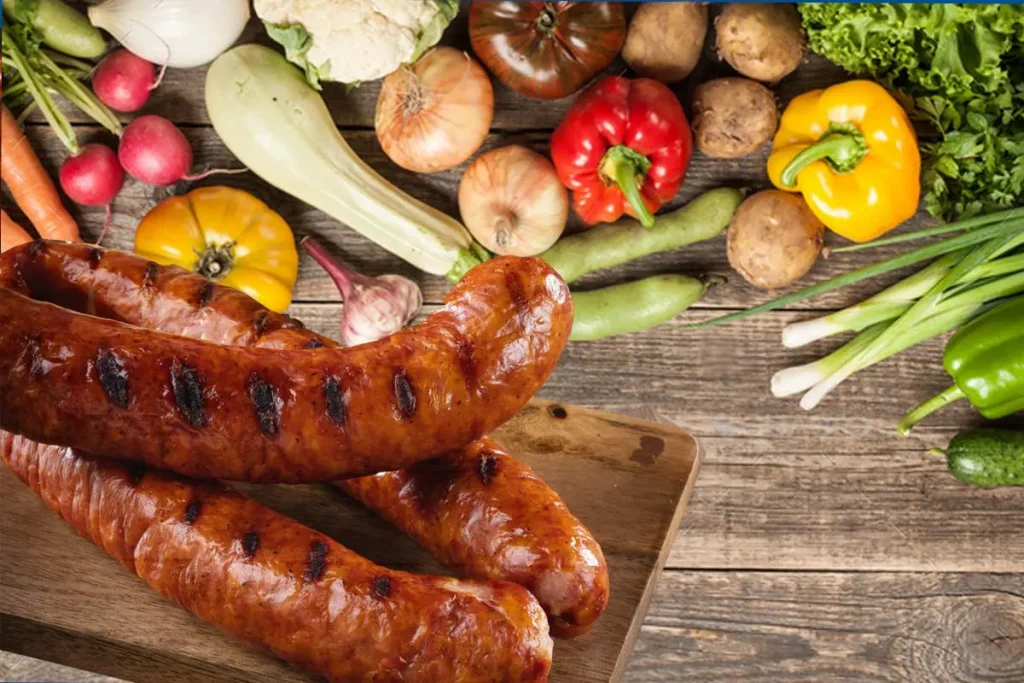 kielbasa is frequently used in American main dishes together with potatoes or cabbage. Additionally, kielbasa frequently adds a deep, smokey taste to a variety of soups and stews. It's also a well-liked ingredient in a variety of pasta meals. 
Once more, Bratwurst has become a mainstay of summer cookouts and barbecues due to its strong association with cooking.  Like the hot dog, bratwurst is now a common menu item at most stadiums and sporting events. It is often served on a bun with sauerkraut on top.
Things Common in Kielbasa and Bratwurst
There are a few characteristics that kielbasa and bratwurst have in common. You might say they are alike.
Origin Representation
Both kielbasa and bratwurst are equal representations of their respective places of origin. Bratwurst represents German culture, whereas kielbasa represents Polish history and culture.
Same Origin
Both kielbasa and bratwurst are traditional cuisines from Central Europe that immigrant groups brought to America and developed.
The Key Ingredient
Technically, pork meat serves as both of the sausage's main ingredients. However, sometimes you may purchase beef and turkey kielbasa in America.
Summary 
Now you are familiar with all the differences and similarities between kielbasa and bratwurst. You also understand that while you may have the bratwurst without frying, you cannot consume the smoky kielbasa. You should also be aware that bratwurst may be prepared in a number of different ways, and that grilling or barbecuing it at home contributes to part of its smokiness.
Well, kielbasa and bratwurst may be made in a variety of ways, including them in different dishes and cuisines, but these unique preparations are gradually becoming American traditions. We hope you have liked reading about Kielbasa vs. Bratwurst. Until the next article, take care.