This post contains affiliate links. When you buy through our links, we may earn a commission.
Do you love to eat Guavas?
Do you know from where it is originated from?
Guava is an exotic fruit that comes in a variety of sizes and colors. It also offers a perfect blend of flavors with sweet and sour toppings. There are multiple ways to eat a guava, both raw and cooked form.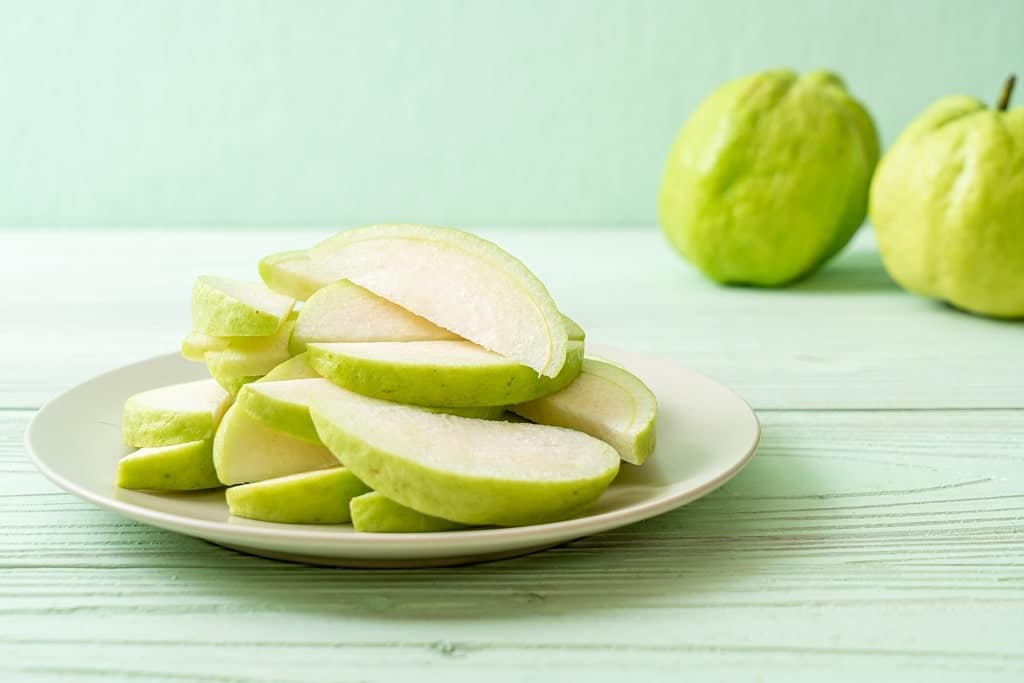 Guava is a healthy fruit and best for everyone. So, let's start exploring some hidden secrets of guavas with us.
What is Guava?
Guava is a tropical fruit that originated from Mexico, Central America, South America, and the Caribbean.
The outer skin of the fruit is mostly light green or yellow. However, the inside flesh comes with a vibrant shade of pink or deep red. The fruit Guava offers a high amount of vitamin A and C, dietary antioxidants, and Omega -3 and -6.
Guava is best for users suffering from Phosphorus, calcium, and iron deficiencies. Mostly guavas are eaten in the raw form. Furthermore, you can prepare jelly, jam, squash, and other food items and dishes with Guava.
Types of Guava
Guava is a versatile fruit tree that needs a warm climate with the full intensity of sun rays. It can tolerate a variety of solid types and perfect for drought climatic conditions too.
You can consider Guava as a large berry that comes with a variety of flavors and colors. It is best for raw consumption, and even you make juices, jellies, and jams from it for better refreshment.
Let's check some unique variety of guava tree for your garden.
1. Mexican Cream
The variety of Guava is from Mexico, and it is also known as Tropical Yellow. The flesh color of the Guava is white.
The fruit's texture is best for preparing desserts because the flesh is sweet and creamy to feel and taste.
The guava tree structure is straight upright and doesn't spread much while comparing with other cultivar types.
2. Lemon Guava
The species of Guava offers a unique taste, and the texture of the fruit is a hybrid form of two fruits. The fruit appears yellow from the outside as well as the flesh is also yellow.
If you taste a Lemon Guava, you will get a distinctive flavor reminiscent of Guava and Lemon's combination. The size of the Lemon Guava Tree is smaller when compared with other variants.
3. Red Malaysian
The Red Malaysian type Guava cultivar offers high-quality fruits. The tree provides great vibrant and exciting colors to your garden.
The Red Malaysian guava tree offers tree red-colored fruits. The leaves of the tree are red-tinted too. The tree appears very eye catchy and enhances the beauty of your garden with its bright pink flowers.
4. Strawberry Guava
Guava is a popular fruit globally, and its different authentic species enhance the taste to the next level. The flavor of the fruit variety tremendously with region and species.
As the name, Strawberry guava resembles the guava fruit's flavor, which is similar to Strawberry's taste. If you love the taste of Strawberry, then we suggest you have a tree of Strawberry guava in your garden. The tree offers excellent fruits for eating and cherish.
5. Detwiler
It is the rarest species of the Guava tree. The texture and the flavor of the fruit are different. You will love the texture and feel of the flesh as the color is yellow.
Detwiler Guava offers you large yellow fruits, and the flesh texture is firm. The color and size of the fruit make it unique and rarest to have in your garden. Try your luck to grab one Detwiler for your garden.
6. Tropical White
We mainly differentiate guava fruit species with their skin and flesh color. Sometimes it becomes quite confusing to determine the correct type of Guava.
However, the Tropical White Guava is one of the clean-looking species with white flesh color. The texture and feel of the Tropical White Guava offer guava lovers with sweet and tender feeling. The color of the skin is yellow and also produces a pleasant aroma of freshness.
Does Guava Taste Good?
Yes, the Taste of Guava is very pleasant and offers an aromatic experience. It is a universal fruit with a pleasant and unique taste. Most of us love the fruit because of its sweetness.
The taste of the Guava lies somewhere in between a pear and Strawberry. The flavor and sweetness vary with the type of Guava you are eating.
What Does Guava Taste Like?
The Taste of Guava is very strong but offers a mild taste, and the texture of the fruit is very dense. As per people's feedback and personal experience, the Guava Fruit taste provides a perfect combination of Strawberry and pear.
The Guava taste is sweet when it is ripe, whereas the unripe guavas taste sour, and the outer skin offers a mixture of a sweet and sour taste. Ripe guavas produce a sweet aromatic fragrance and firm to feel.
The Best 5 Ways to Eat Guava
Guava is an exotic fruit and delivers the best combination of flavors with a blast of sweetness.
Do you know the perfect way to enjoy Guava?
Here are the best 5 ways to eat Guava and enjoy its true taste.
1. Slice and Enjoy with Salt and Chili
There is a tradition in some cultures where peoples love eating Guava slices with Chili and salt. It offers a unique experience with the spiciness of the salt and crispiness of the fruit.
2. Eat raw like an apple.
Wash your fresh Guava with water and take a bite. Eat the entire fruit without eliminating its seeds. Ripe guavas produce an aromatic fragrance and firm texture you're your press it.
3. Enjoy as Smoothies or Juices
No matter whether you love white or pink guavas. Both the variety offers excellent flavor and a perfect blend of sweetness. Preparing juices and smoothies refreshes your mood with a mild taste. If you want, you can blend other vegetables or fruits with your guava smoothies.
4. Prepare Sauce and enjoy with other food items
Pink Guava sauces add a vibrant look and popping color to your favorite dish. Cook guava with sugar and water to produce s pureed sauce. The versatile Sauce goes best with Pancakes, oatmeal, and yogurt.
5. Slice and chop for salad preparation
Grave comes with crunch and crispiness. So, you can grate, chop, Julienne or slice and use it with your favorite dish as salad or coleslaw. Enjoy it with your healthy breakfast, like blend it with granola or yogurt.
Conclusion
Guava is a versatile fruit with multiple health benefits. The taste and texture are also unique as it combines the taste of Strawberry and pear.
We recommend you to have Guava daily in its natural form. It is always better for a fresh guava experience to plant a guava tree in your home garden. Choose the best guava types depending on their taste and sweetness levels.