This post contains affiliate links. When you buy through our links, we may earn a commission.
How bake potatoes in the oven isn't a secret, but with a few handy hints and tips, you may well be serving the best tasting baked potatoes ever!
In our house, baked potatoes are a real crowd-pleaser. Everyone likes them, the delicious cooking aromas fill the house, and they are an ideal side dish or main course.
They are a delight for the cook to make, they are fast and easy to prepare and result in little waste and full bellies!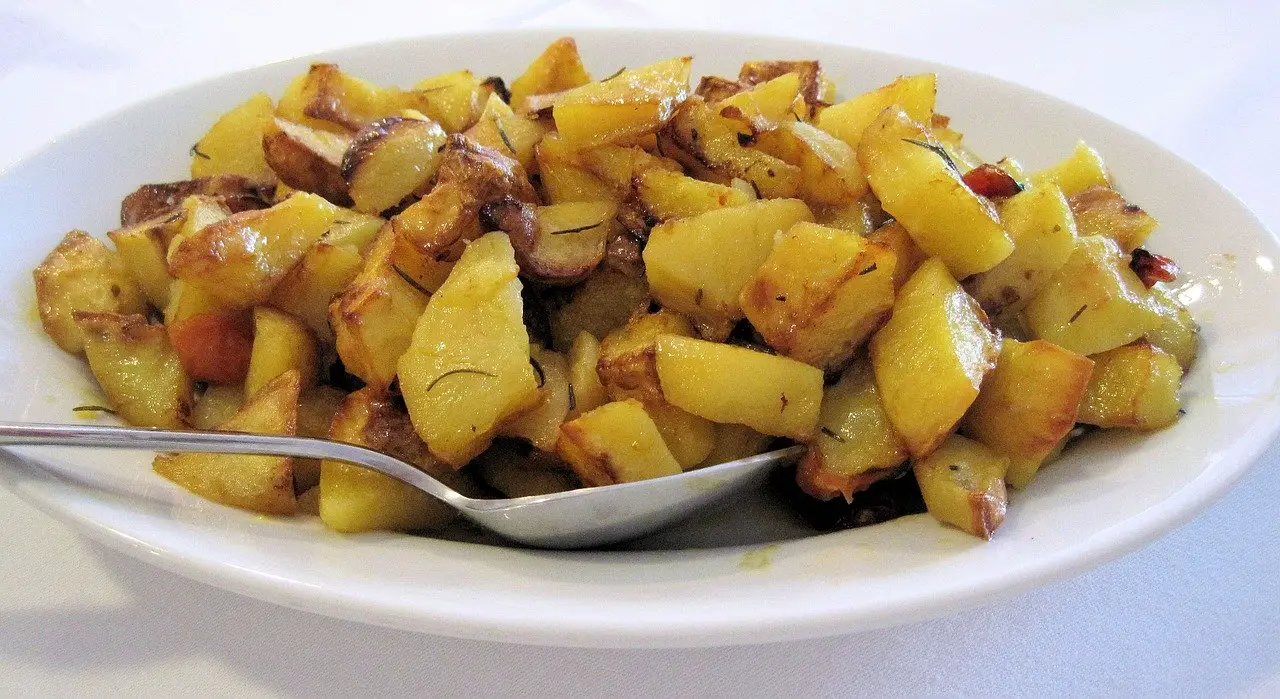 Which potatoes to bake?
Although it is right to think that you can bake any old potato, we feel that russet potatoes are the ultimate 'spud' in taste tests.
The perfect baked potato, in our opinion, should have a crispy bite to the outside whilst the inside remains soft and fluffy.
Russets fit the bill. Their skins are thick for added crispiness and to seal in moisture. They are sweet and starchy which results in a flavorsome snack and light, fluffy potato.
Also Read : Do You Know How Many Tablespoons in a Teaspoon?
Recipes for Baked Potatoes
Ingredients
Potatoes
Olive oil
Salt
Pepper
Tinfoil (if you prefer softer skins)
How bake potatoes in the oven
Firstly, if you're baking multiple potatoes, get them as evenly sized as possible. This ensures they are all cooked equally and ready to eat at the same time.
Pre-heat the oven to 400 F
This is the most important step. Using a fork, prick each potato multiple times. This enables steam to release and prevents them from exploding in the oven. Well-pricked potatoes will always produce crispier skins.
Rub olive oil all over each potato. Using your hands can be a little messy but they are the best tools for the job.
Generously season with salt and pepper, place on a rack and pop them on the middle oven shelf.
If for some crazy reason, you prefer soft skins, you can wrap your baking potatoes in tin foil to prevent the steam escaping.
That's it. Put your feet up, cut the lawn, or make a delicious filling. You have plenty of available time on your hands!
How Long Do You Bake a Potato?
Times and temperatures for baking potatoes vary upon personal preference and the size of the potato. Here is our guide.
Standard
Around 1 hr and 20 mins at 400 F is perfect for soft potato and lightly crisped skins
Super Crispy
2 hrs and 20 mins at 360 F will give you ultimate baked potato results
In a Rush
Pop your potatoes into the microwave for 3-4 mins to begin the cooking process. Next, finish them off in the pre-heated oven. This will massively reduce cooking time to around 50-minutes.
Did you know that in the UK potatoes baked in the oven are known as 'jacket potatoes', probably because you don't need to take their coats off?
Recipes for Baked Potatoes
Oven-baked potatoes are ideal comfort food and can satisfy hungry people as a light lunch or as a late supper.
They are substantial and, depending on what filling you choose, are a great option for people counting calories. Plain Jane is our name for the potato just as it comes with butter and seasoning.
The Cowboy is ever-popular, cut the potato in half, add a sprinkle of salt and a knob of butter then a generous spoonful of baked beans and top it off with a handful of grated cheese, Cheddar works well.
It's Slaw Over is a favorite of ours. Home-made slaw is simple to do and is a perfect accompaniment to hot, buttery potato. Grate white or red cabbage, carrot and onion into a bowl and gently coat it with mayonnaise. We like to add a dash of mustard, some seasoning and the juice of a lime.
The Healthy One is a potato served with lots and lots of salad and no butter. Instead, try a blob of soured cream and some chopped chives.
Taco Time is the ultimate baked potato. Hollow out the flesh and mash it up with cheese, fajita spices, diced green onions, and cilantro. Pop the empty shells under the broiler for a couple of minutes to make them super-crispy and then refill them. Who needs taco shells?
The Ultimate has to be potato boats, our favorite potatoes baked recipe. Once again made by scooping out the flesh but this time it's mixed with crispy bacon, your favorite cheese, and onions. Stuff the shells and sprinkle a little mozzarella on top and pop under the broiler for a minute or 2. Heaven on a plate!
Leftovers have to be the easiest filling to have with a baked potato. Chili, stew, and curry are great on a hot, steamy potato.
Cook too many potatoes?
Don't worry, they needn't go to waste. Let them go cold, chop them into cubes and made a potato salad with them.
Cut them into wedges, drizzle them in olive oil, cover them in bacon bits and cheese and roast them. Perfect loaded wedges.
They can also be sliced and deep-fried. A perfect crispy substitute for fries that compliment a steak.
Conclusion
You don't need a specialist potato baking oven to make the perfect jacket potato, just some nice russet potatoes, some seasoning, a hot oven, and a little time.
Now that you know how to bake a potato in the oven, have a go, you could even get adventurous and experiment.
I hear baked sweet potato is pretty tasty!