This post contains affiliate links. When you buy through our links, we may earn a commission.
360 Cookware Review Overview
Do you want cookware of high quality and performance?
Cooking requires safe and virgin metals to safeguard food and health.
If you want to introduce some excellent and productive cooking utensils, then 360 Cookware Review will help you.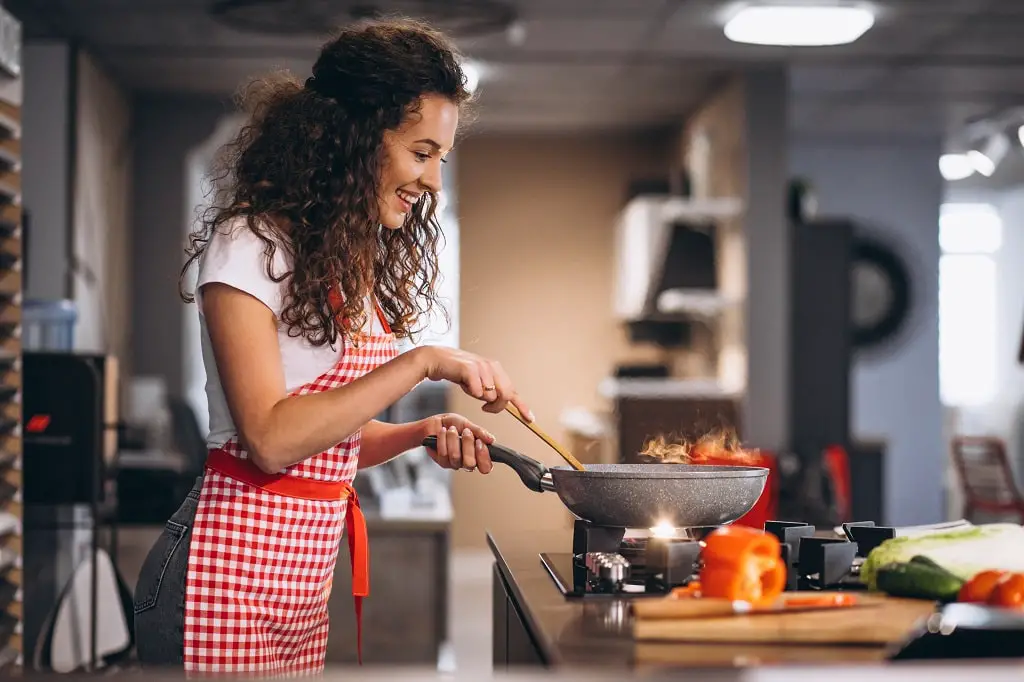 The advantageous features of 360 cookware sets add multiple benefits. It enhances the flavor and naturally holds the moisture.
360 cookware sets offer versatile cooking options, which makes it a perfect brand for every household. Let's have a look at some best 360 cookware set for every cooking style.
Top Pick 360 Cookware Review in 2022
The Brand 360 cookware offers an excellent sauté pan for all types of frying. Now cooking is much more comfortable with its superior toxic-free stainless-steel construction. The cooking surface effectively spreads heat uniformly for faster cooking.
The cooking is greaseless, and fatless which improves health and reduces the amount of appetite. The design and form factor ensures a longer self-life. Harsh cleaning with scrubbers or dishwashers doesn't spoil the authentic texture of the cookware set.
The overall construction of the cookware pan is made up of aluminum and stainless steel. The beautifully handcrafted at an Eco-friendly factory boost the quality. Now preparing delicacies can be possible with less fuel and oil.
With lid cooking, you can improve your food's texture and retains flavor. People who love to have moist food must try the sauté pan as it comes with surgical-grade multi-layered stainless steel.
Pros
100% handcrafted and manufactured in Green E-Certified factory
Made up of superior stainless steel and aluminum
Offers unique vapor seal around the lid
Baking delicious treats with less energy
Surgical grade stainless steel with insulated layers
Cons
No non-stick coating presents.
Requires oil for sautéing and frying.
A complete kitchen always demands appropriate cooking utensils. No matter whether you are using it daily or not. Cooking different recipes requires specific cookware for better results.
So, we suggest you buy the above 9-piece cookware set. It comes with robust, ergonomic handles with the best heat elimination properties. The base of the cookware set is suitable for all cooktops, including induction too.
The brand ensures 100% non-toxic products uniquely handcrafted at their Green E certified factory. The grade of the stainless steel satisfies all medical and surgical standards. The cookware set's life is also very long as it comprises heavy 110-gauge metal sheets.
There is no quality compromise as 360 cookware includes T-304 and 18/10 stainless steel with no impurities. It not only improves the cooking stand but also protects the consumer's health. The 360 cookware is one of the best brands with a manufacturing facility in the USA.
Pros
Ergonomic handles with heat elimination features
Oven safe cookware with induction suitable base
Surgical grade stainless steel with heavy 110 gauge
T-304 and 18/10 stainless steel made
100% authentic handcrafted products in the USA
Cons
Handles come with no silicone insulation.
The absence of non-stick coating enhances the risk of food burning.
We all love cakes and other bakeable recipes. But it is essential to choose the best bakeware set for safe baking. Baking requires extreme heat and precise heat distribution for uniform baking.
For best baking results, 360 cookware offers 100% virgin stainless steel for effective baking in less time. The set is suitable for multiple cooking styles, including baking, frying, and roasting.
The best thing about the pans is that the metal used comes with 5 Ply construction. The brand ensures it, users with surgical-grade baking surface with no compromise with health.
Superior heat distribution bakes your food and its ingredients uniformly. It helps in delivering the best taste and flavor. Lifting the pans is genuinely comfortable with its robust handles. The brand offers a lifetime warranty on its products.
Pros
100% virgin stainless steel for all baking needs
Roasting, baking, and frying compatible
It comes with 5 Ply construction
Even baking with superior heat distribution
Robust handles and built quality delivers a lifetime warranty
Cons
Becomes dull on usage
Round pans with no lids
The 360-cookware stockpot is best for baking small chickens and hens. Roasting and sautéing chickens is only possible if the stockpot's metal transfers evenly to the food.
High-quality stainless steel improves cooking and roasting performance. Now users can perform slow cooking with no issue. It is best for families who love to prepare moist food dishes. It helps in retaining the flavor and gives a superior juicy texture to your fresh food.
Stainless steel base helps in superior heat distribution for uniform roasting. The benefit of using the pot is that it is suitable on top of every cooktop, including induction. The handles are made up of high-quality stainless steel for stable lifting. The rivets used ensures long life and preference.
The 360 cookware is a brand which manufactures their products with Eco-friendly process. For better customer satisfaction, the brand offers a certificate of authenticity on the purchase of their products.
Pros
Looking attractive and colorful
Acts as a little oven for baking small chickens and hens
Comes with high-quality stainless steel with Slow cooking base
Best for families who loves flavorful and moist food
Induction capable base with uniform heat distribution
Brands offer a certificate of authenticity
Cons
Only offer dual riveted handles.
Shine degrades on scrubbing.
The 15-piece 360 cookware set offers comfortable cooking with no additional hassles. The materials used are 100% safe and non-toxic. It assures users with safe cooking.
Pure virgin stainless steel cooking surface reduces the use of grease and fats. It not only promotes healthier cooking but also reduces food coking time. The benefit of using the cookware is that it maximizes the food's moisture-retaining to keep it fresh for a longer time.
You have to place the cookware set on top of any stovetop, and it will be ready for operation. It even works perfectly with induction cooktops. The stainless steel promotes safe and heating cooking with uniform heat distribution.
We recommend you buy 360 cookware set for better results and faster cooking with minimum fuel consumption.
Pros
Free from non-toxic elements for safe cooking
Allows cooking with non-additional greasing or fats
Helps in cooking food with maximum moisture
Suitable to operate on top of every stovetop
Uniform heat distribution for faster cooking
Cons
Harsh scrubbing adds scratches on the surface.
High flame heating is not appropriate.
Frequently Asked Questions
1. Is 360 cookware non-toxic?
Yes, 360 cookware is non-toxic. The brand certifies that all their products are made in Green E-Factory with no chemical waste. The manufacturing process is free from smokestacks and doesn't require wearing masks by its employees.
2. Where is 360 cookware made?
All the products of 360 cookware are manufactured and handcrafted in the Green E-Certified factory in West Bend, Wisconsin. The brand is 100% the USA made with No harsh chemicals. These cookware sets are suitable for all cooking types, including baking and frying too.
Final Verdict
Finally, we compared some great cookware offerings from the brand 360 cookware. After analyzing the features, we came to some interesting conclusions.
The brand is suitable for cooking all recipes as the stainless-steel construction enables uniform heat distribution. You can also perform slow cooking with no hot spot issues.
We recommend you to study every single feature from our 360 Cookware Review. It will effectively improve your cooking performance and style.