This post contains affiliate links. When you buy through our links, we may earn a commission.
Suppose you love cooking and enjoy the feeling that's accompanied by providing healthy meals that are nourishing. In that case, there is every possibility that you've come across one or two Xtrema cookware.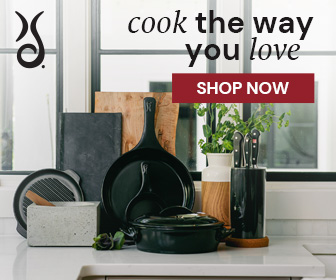 To know more about the cookware and its qualities, we curated this review on some products. So let's take a look at the five top-rated ceramic cookware and provide you with the right information to make the right decision if the product is perfect for you.
We provided details about some of the major cookware and their qualities to help you get more information about what they like.
So without further ado, let's get started:
Top 5 Xtrema Cookware Reviewed
The first recommended ware on the top five picks is the Xtrema's FDA made of natural ceramic and 12 cooking set. Based on the texture and appearance, it pretty easy to believe that the cookware is made of ceramic materials.
The glossy feel and appearance give off a strong indication that you don't have to experience leaching while using the cookware. The cookware comes with a 16-ounce Traditional Saucepan and 1.5 Quarts of Saucepan.
All the ware is designed with matching lids meant to keep your meal covered properly while cooking and after cooking. The aesthetic isn't mind-blowing as expected, but the major advantage is that the ware is not easily scratched. On the flip side, if you're using metal cookware, there is a huge possibility it gets battered after a couple of scratches.
Pros
Natural alternative to metal cookware
Non-scratching and non-leaching properties
Used under different cooking conditions.
It's eco-friendly
Distributes heat evenly
Cons
It is expensive
It comes with nonstick coverings.
The next ware on our list is called the specialized Ceramic Wok Frying Pan. This is crafted with a beautiful silicone pot holder designed to make frying more fun and pretty easy. Furthermore, the body is made of 100% natural ceramics, which doesn't give off toxic or unwanted metals to your meals.
Although, due to the thin texture, frying might require a bit of caution, and there are possibilities of cracks on the surface of the cookware, which may limit the warranty policy. This often occurs if the ware is not used for mild cooking.
To this effect, just as there are the positive point when it comes to the use of Xtrema 100% Ceramic Wok Frying Pan, there is a less positive aspect that will require your attention. The good news is, the cons have little to -no effect on your overall experience.
Pros
Doesn't leach toxic metal when used.
100% natural and safe.
Comes with a tightly fitted lid with a pot handle.
It is hand and dishwasher safe.
Cons
It requires extra care during storage.
It needs to be oiled frequently.
The Xtrema's short-handled ceramic frying pan is yet another jaw-dropping product you might want to check out. However, this is slightly different from the silicon handled; here, you get cookware that comes with shorthand. If you don't prefer the silicone handle, this version can serve as a perfect alternative.
It comes in a non-flashy midnight color; however, this doesn't mean the frying pan won't be limited in cooking. Its 10 inches high and is crafted with a fitting lip that controls your meal from splashing on your kitchen slabs.
The composition guarantees that the meal is 100% healthy. However, there are needs for precaution since the excessive temperature will only increase the risk of cracking the ceramic on the pan's surface.
You can choose to use plastic or wooden utensils on the cookware to control the scratch. However, this isn't compulsory since the ceramic pan comes with a non-scratch nature.
Pros
The short handle gives it a firmer grip.
Give off natural cooking experience
Its hand, microwave, and dishwasher safe
It comes with a non-scratch surface.
Even heat distribution.
Cons
Require extra care when storage.
If you're a culinary enthusiast, you deserve a big enough pot to handle stocks of soups, sauces, bread, and more. This cookware is designed to give you enough versatility; the pot is crafted to handle your craving.
This signature cookware is non-toxic, dishwasher – safe, and comes with a high-gloss finish that keeps the tool shine after years of use. The 5.5-quart sauce pot comes in a perfect size that suits pork loin, short ribs, chicken, and various savory dishes.
The versatility and possibilities you get here are endless; you can use the pot for baking bread, poaching fish, or saute vegetables in sizes that will go around your family.
Pros
Versatile
Dishwasher safe
High-gloss finish
Even heat distribution
Non-scratch surface
Cons
It does not reach to sudden temperature change.
This ceramic cookware is crafted to distribute radiant heat to help you get a meal that is well cooked. Unlike other cookware made from metals, this ware has zero toxic odors or metal leaching and gives off the exact taste of a fresh and flavored meal.
The compact size is perfect for individual servings and is also built for versatility. It's an ideal size for 2 -3 eggs whenever you intend to get your breakfast within minutes.
The non-scratch feature makes it easy for you to use different utensils like wooden, nylon, and silicone. The versatility allows it to withstand extreme cold and heat temperature. Whether you intend to cook on a stovetop, grill, microwave, or broiler, this will serve perfectly.
Pros
Natural alternative to metal cookware
No leaching
Non-toxic
Grill, stovetop, and oven safe
Xtrema Cookware Where to Buy
The brand Xtrema is known to have over 40 years of experience in the ceramics and glass industry. The company was established in 2004 and has set up an unbeatable reputation by creating non-toxic, seasoned, safe cookware.
Cooking with Xtrema is friendly to the environment and healthy when used to meet up family cooking needs. Their product is handcrafted and has quality standards as the world's finest ceramic cookware. You can get any of the products reviewed on this list on Xtrema.com.
Frequently Asked Questions (FAQ)
Where Is Xtrema Cookware Made?
Xtrema Cookware is designed in the US. Like other ceramic cookware and other sought after cookware product, it's crafted in Southern China, which is also known as the birthplace of Ceramics.
Is Xtrema cookware safe?
Ceramic cookware has zero metal and is well-tested for safety based on government standards, making it one of the safest cookware.
However, there is cookware that is ceramic coated but contains metal and tends to become toxic when exposed to high temperature.
Does Xtrema cookware contain lead?
The brand is known to develop cookware that is perfectly compatible with the stovetop.
They claim their product are free from cadmium, lead and publish documents that show the content of cadmium and lead.
Is ceramic coated cookware nonstick?
Ceramic coated cookware is made from metallic cookware, which often takes stainless steel and aluminum coated with different ceramic layers.
Ceramic cookware is free from metal chemicals; it doesn't leach metals and comes without PTFE and PFOA.
Conclusion
If you read through this review carefully, one of the major downsides reoccurred in all the reviews is weaknesses. And that because the cookware is made from strong ceramic materials.
Another point to consider is that the product is not 100% perfect. With time, you'll have to deal with a couple of cons although, this is normal since there is no cookware out there that is 100% perfect.
Regardless of the choice you intend to go for. It's essential to consider your budget and cooking needs before purchasing. Doing this will help you get the perfect cookware that is perfect for selecting the food you're going for your kitchen needs.