This post contains affiliate links. When you buy through our links, we may earn a commission.
Knowing how to make an over medium egg without flipping is one skill worthy of consideration. The over medium egg is one that is most times overlooked for other more popular egg preparations.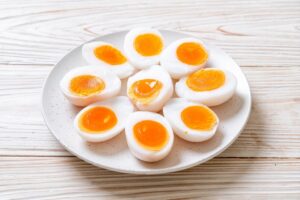 As good as scrambled, sunny side up, and over-easy eggs may seem, the over medium has its uniqueness. This system of making eggs ranks almost at par with baked eggs.
If you do not understand what over medium eggs are about, the perfect way to picture it is to imagine the egg as an overcooked, over easy egg.
As against having a super runny yolk, you will instead have a slightly solid and slightly runny yolk. If you are one that battles with indecision, this is the egg for you.
How Many Calories are in a Medium Fried Egg?
In one medium fried egg, you will find 78 calories, of which 53 calories are gotten from fat. The total fat quantity obtainable in 1 medium fried egg is about 5.88 g.
You will discover that 1 medium fried egg has about 1.64 g of saturated fat, 0 g of trans fat, 1.06 g of polyunsaturated fat, and 2.4 g of mono-saturated fat within the fat content.
To cut down the risk of heart conditions, ideally, you should eat items that are low in cholesterol content. The cholesterol content of a medium-sized happy egg has about 66 calories, and a medium egg has about 78 calories.
Eggs are very nutritious and will fill you up for a longer time than several other foods. This means you will be getting great value for the calories you are eating.
How to Make an Over Medium Egg Without Flipping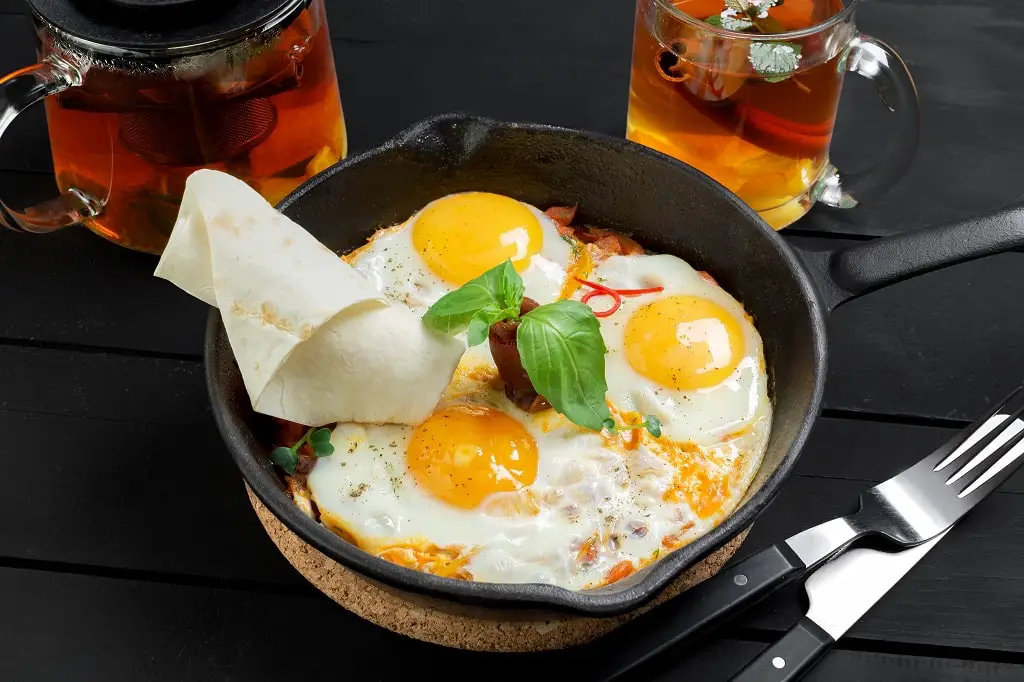 Do you flip your fried eggs to avoid the trauma that comes with a burnt bottom and raw egg yolk? You do not have to fear any longer! Nothing beats a well-fried egg. With just the right steps, you should be the toast of your friends.
Ingredients Needed
1 Tablespoon of unsalted butter
2 large eggs
Ground pepper and salt (optional)
Preparation Method :
1. Put the Pan on the Burner at Medium Heat
Start by using a pan with adequate space to allow the eggs to run between themselves. Make sure you do not fry more than 4 eggs per time. Ensure to monitor the temperature as you fry it. Wisdom dictates that turning the heat low is better than overheating it.
2. Pour Olive Oil Some Minutes
Using lower heat is much better as too much heat will cause the eggs to burn
3. Let the pan heat up but not to the point it causes the butter to burn
4. Break the eggs into a bowl or small dish
When you do this, proceed to lower the dish into the heated pan and pour the egg gently into the pan. When you do this, you will hear a little sizzle but not a splattering or popping sound.
5. Break up to three eggs one for each time into the dish
Ensure this gets done quickly to ensure that your eggs get done at once.
6. Add Two Tablespoons of Water into the Bottom
When this gets done, transfer it into the pan, but do so directly on the eggs. Afterward, place the lid directly on the frying pan and cook the eggs for about 7 minutes, depending on the heat. This water will assist in creating a hood covering the egg yolks.
7. Ensure to observe the yolk hardness by opening the pan lid periodically
When you notice that it is getting almost done, remove the pan to ensure the water leaves evaporate. You want to have the eggs made without having the crispy edges, which may take some time to master. The water provides a moist cooking environment to prevent the oil from burning the egg directly.
8. Use the Spatula and Lift the Eggs From the Pan to the Plate
Simple Tools You Need for Cooking Cook over Medium Eggs
1. Slotted Turner
OXO Good Grips Nylon Square Turner
Nylon Square Turner has a broad surface for flipping eggs, grilled cheese and more
Sturdy nylon is safe for non-stick cookware
Heat resistant to 400°F
Soft, comfortable grip
The cutting edge is not required for this particular recipe, but it's quite ideal for several others. Using a slotted turner is ideal for making over medium eggs. This tool is lightweight, versatile, and perfect for cast iron cooking.
It comes with a full tang, cherry handle, stainless steel body, curve matching the inside radius of the field skillet.
2. Frying Pan
It would help if you also had your frying pan to make yours over medium eggs. Note that there are different frying pan parameters out there. They come in different coatings, materials, and handle types. Whether you are going for the non-stick pans or the omelet station, each one effectively serves its purpose.
Some materials to consider include aluminum, hard coat, stainless steel/ aluminum, copper/stainless steel, and carbon steel.
Also, it would help if you considered the thickness of the frying pan. Much more than just the material construction, you need to also factor in the frying pan thickness.
However, how can you determine the thickness of the frying pan? Note that the thickness of cookware is generally measured in mils or gauge. The way this gets measured is quite important – "1 mil is the same as 1/1000". Hence the greater the mill, the thicker the metal will be.
Gauge, on the other hand, functions in reverse. The more the gauge, the thinner the metal will be. Most cookware measures between 10 gauge and 22 gauge construction.
3. Electric Burner
CUSIMAX Double Hot Plate for cooking, 1800W Portable Electric Double Burners Countertop Burner Cast Iron Hot Plates Cooktop, Stainless Steel Silver Easy to Clean
[Works With All Types of Cookware]: Compatible with pots and pans with maximum size of 7.4 + 6.1 inches. Works with glass and aluminum and heats cookware efficiently with minimal heat loss. All CUSIMAX products are covered by Product Liability Insurance of United States.
[Cast-Iron Burners & Easy Cooking]: Turn on/off the burner by just turning the knob, easy operating. This hot plate is equipped with thermostat, when it reaches the setting temperature, it will automatically cycle on/off the power to maintain the setting temperature. Easy cooking. NOTE: All cast-iron hot plate takes minutes to heat up and 15 minutes to cool down, you can purchase Cusimax Infrared Burner which takes few seconds to heat up if you don't like the speed.
[Convenient] Powered by 120V and 900-Watts (left plate) + 900-Watts (right plate), add up to 1800W. Conveniently cook a variety of foods such as warm sauces, scrambled eggs, grilled cheese, soup, pasta, vegetables and so much more. Very portable design. Ideal for dorm rooms, offices, camping, or even your RV. Great for every day use or as an extra cooking appliance in a busy kitchen. No stovetop required. Simply wipe with a clean and damp cloth when cool.
[Safe & Durable] NO Radiation, compare to induction cooktop, cast-iron burner works by heating and has no electromagnetic radiation, and therefore, it is harmless to the human body. Automatic safety shutoff function with temperature regulated by a thermostat, it is normal when the indicator turns on and off automatically. Stainless steel body built to withstand frequent use. Durable Cast-iron cooktop.
Whether you seek to make the over medium egg for yourself or a buffet, having an electric burner will be a core part of your cooking tools. They are made with consideration for easy transport and portability in mind. Even though they don't take up much space, they give the same results as the standard electric burner.
With portable electric burners, you will be able to move your cooking services to any location with ease. With them, you are guaranteed versatility and flexibility.
4. Small bowl
It would help if you had the bowl to break the egg inside.
Conclusion
Knowing how to make an over medium egg without flipping is not exactly rocket science as it simply requires little input. Ensure you always use fresh eggs if you get the best out of the over-medium eggs. Even though over medium eggs make the perfect breakfast, you may also add them to sandwiches to get more protein.