This post contains affiliate links. When you buy through our links, we may earn a commission.
Turkeys make the ideal meal choice, especially during the holiday season. Getting the perfect taste and texture requires more than a cookbook. You also need the best Turkey Roaster oven. Roaster ovens are a powerful cooking device used in small kitchens and people who do not want to spend too much money on traditional ovens.
If you are the type that travels a lot but have a passion for cooking, getting one of the best Turkey roaster ovens will be a perfect choice.
The Turkey roaster is simply an electrical tabletop cooking device that helps you roast your food by distributing the heat evenly in a chamber. These roaster ovens do a lot of work ranging from roasting a whole turkey to slow cooking stew. So, if you are planning an elaborate dinner, you need to get yourself a toaster oven.
The Benefits of Owning the Best Turkey Roaster Oven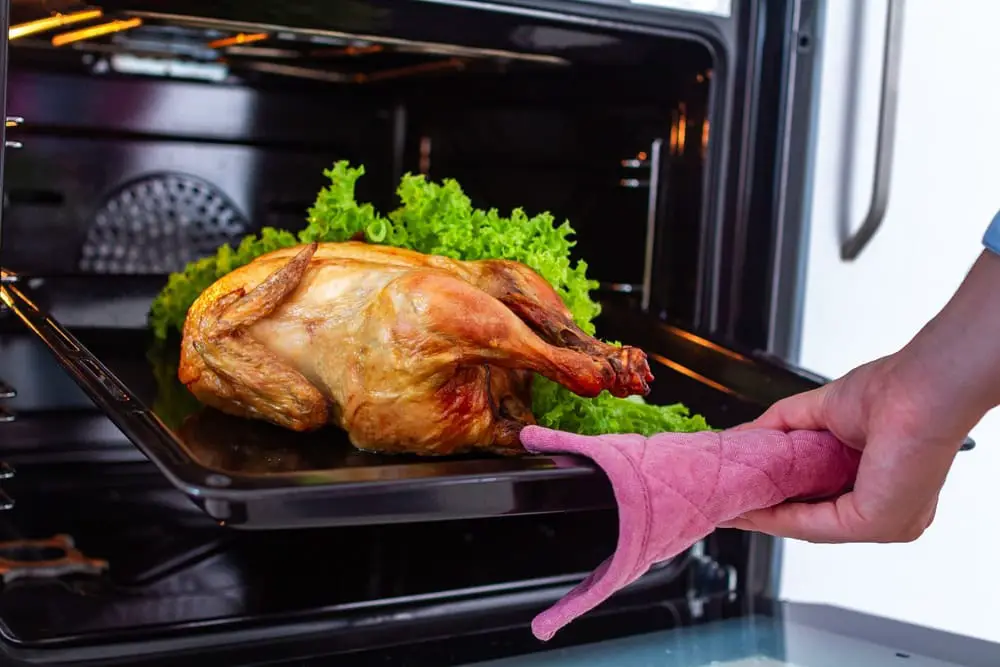 There are several reasons you need to purchase an oven roaster. Aside from using it to roast your food, you can also use it for baking pastries. For those who are creative, they may tweak their recipe to get the ideal barbecue combination.
1. Portability
One of the most distinctive features of some of the best turkey roaster oven in town is transportation ease. The ability to carry an oven to where you desire means you can turn your culinary imaginations into reality on the go.
2. Sumptuous and Moist Meals
One of the most common issues faced with making birds is that they come out dry. Moisture ovens, on the other hand, can retain the moisture content.
3. Shorter Cook Time
Getting an oven heated up may seem like a time-consuming venture. But using any of the reliable best turkey roasters will save you time and energy. These ovens take up less space; hence the heat will spread wider in a quicker time.
4. Less Expensive
These roaster ovens allow users to get quality roasts with positive reviews at the best rates. When compared with other traditional roasts, these roaster ovens offer the best prices.
5. Easy to Clean
All the roasters listed in this review are created using an insert, making it easy to clean. But ensure it cools down before you scrub it with water and soap.
Our Pick 3 Best Turkey Roaster Oven
Top 5 Best Turkey Roaster Oven Reviews
The Nesco 4816-12 roaster oven makes our list of the best turkey roaster oven for several reasons. This roaster comes with a unique heat retention feature, which allows you to cook tender meat due to the moisture retention feature. With its adjustable temperature function, it will effortlessly fit into your daily culinary functions.
The oven's removable steel rack and the fat-free roasting feature ensures that the unit is very reliable. It doesn't matter if you like to bake or steam; the roaster oven has a versatile design that allows you to make diverse food types.
Also, its porcelain build makes it energy conservative. With this roaster, you will consume less heat but get optimum output.
Some of the key features include a versatile design, adjustable temperature control, and a removable steel rack.
Pros
It is great for making turkey.
Heating elements on the side for lowering Turkey burning
It doesn't have a glass top to shatter.
This unique 3-in-1 roasting pan makes our list of the best turkey roaster oven for a few strong reasons. This roaster oven can be used as a covered or open roaster. Its lid can be separately used for serving and cooking. Also, its 3-ply construction functions on all cooktops such as oven, induction, stovetop, grill, and boiler. And can be controlled safe to 315 degrees Celsius.
The stainless interior is relatively easy to clean and does not react with the food been prepared. Also, it comes made with a unique Viking handle, which gives it a secure and comfortable grip and has an 8.5 qt. Capacity, which means you can easily cook a 14lb chicken. Note that its stainless wire rack helps elevate the food for even distribution of heat.
The oven's three-layer construction combines the conductivity of aluminum and the durability of stainless. The product comes with a lifetime warranty coupled with unique versatility.
Pros
It is versatile
Induction compatible.
Easy to clean and maintain.
Has a sturdy and strong build.
Cons
The lid may not perfectly fit.
Very few things beat a wonderfully made meal while hanging out with family and friends. Regardless of the gathering size, the Proctor 32191 Stainless Steel Roaster Oven makes our list of the best turkey roaster oven for several reasons. The oven simplifies your cooking by cutting the cooking time in half. This roaster is easy to use and gives value for money.
This oven is made using durable and high-quality stainless steel, making it perfect for long term use. The oven also comes in a versatile build, which means you can use it to roast ham, Turkey, beef, and heat food. This oven is also very easy to clean and maintain and comes with a one year warranty.
Pros
It can cook large Turkeys perfectly
It comes with a keep-warm function
Perfect for stews, soups, and broths
Easy to transport
Cons
Doesn't have a thermostat
You can hardly go wrong choosing the Circulon Nonstick roasting pan regardless of how many guests you are expecting at your event. It doesn't matter if you are hosting a reunion, dinner, or just hanging out with friends. This roaster oven will get the job done.
The roasting oven is created using superior heavy-duty steel, which promotes even heat distribution and nonstick features, making it easy to clean.
If you intend to roast seafood, hams, chickens, or turkeys, this is the pan for you. This oven also comes with wide riveted handles, which makes it ideal for confident and safe handlings.
Also, the roasting rack may be removed with ease to separate the meat and drippings. For you to retain the nonstick ability of the roaster, ensure you hand wash while cleaning it.
Pros
Comes designed with wide stainless steel handles.
Made of heavy-duty steel for even heat distribution.
Compactly built.
Very durable.
Cons
Does not have a thermostat.
The Nesco 4818-14 comes from a line of reputable products by Nesco which has been in existence for almost a century. This oven allows you to cook, roast, slow cook, and bake, making it a versatile and reliable kitchen equipment.
Also, it can cook food faster, thus saving your precious time. The oven is so easy to use because it doesn't come with complicated settings.
You may use this oven as the main oven or as the secondary oven. You can prepare a succulent and hot roast, dishes, stews, and whole meals with this oven. It deploys the circle of heat technology, which helps to cook your food evenly. The oven comes with an auto temperature control between 200 degrees Fahrenheit and 450 degrees Fahrenheit.
The unique Nesco 4818-14 18 Quart roaster oven comes with a one-year limited warranty, assuring you of getting a product that would last for years. Maintaining and cleaning the oven is also relatively easy.
To do this, simply remove the cover and rack and cook well. Wash the cook well and rack in warm water. This oven also comes with a self-basting lid, which allows you to get rid of manual basting.
Pros
It is versatile.
Easy and durable to use.
Comes in attractive designs.
Cons
Would have been better if the lid was see-through.
How to Choose the Best Turkey Roaster?
The best turkey roaster ovens should be a part of your kitchen; hence, when you are out shopping for one, you need to consider the following factors to get the best:
Material and Size
You do not have to use the biggest size out there; however, while searching, make sure you go for one that would accommodate your intended meal. Also, you have to mindful of the material used in making such. Often, steel enamels give the best heat distribution within the pot, which helps retain the heat.
Also, the enamel and the quality it offers will dictate if you dish wash or clean it. 16 Quart oven is ideal for birds that weigh as much as 18 pounds, while the 18 Quart is ideal for birds that weigh up to 24 pounds. The 22 Quart is perfect for birds that weigh up to 28 pounds.
Temperature Control and Lid
If you are a turkey lover, you will need to get a roaster with a high dome lid. Doing this will ensure you will able to roast ham and other large food.
Also, note that most ovens come with a peak temperature of up to 450 degrees, and you can also set t to 150 degrees. Your choice of the oven should be dependent on its intended use.
Other intended use
Ideally, go for one that has added features and options so that you can use it for different purposes. You could consider one that comes with buffet inserts.
Price and Reviews
Ensure you check online for turkey roaster reviews from verified users. This should give you an insight regarding the quality of what you are getting. These roasters aren't exactly expensive as you can get most of them for under $100.
How to Cook a Turkey with the Best Turkey Roaster Oven
Roast and Serve
Making the best Turkey meal requires using the best turkey roaster oven. Each oven reviewed in this article makes this list based on feedback from verified users, and each one possesses unique features that set it apart. Our best pick from the lot is the Nesco 4818-14 classic roaster oven. This oven comes with a carrying capacity that should handle your turkey needs regardless of size with ease. Also, its temperature range and control means you will be getting an evenly roasted meal.