This post contains affiliate links. When you buy through our links, we may earn a commission.
Abbie's cookware is one of the most popular cookware brands in the world. These products are eco-friendly and manufactured safely and professionally in China, in a factory shared with some of the world's most pricey cookware labels.
The manufacturing partners of Abbie offer high-quality professional-grade cookware at an affordable price. It helps you to achieve a comfortable and pleasurable cooking experience at your place without any issues.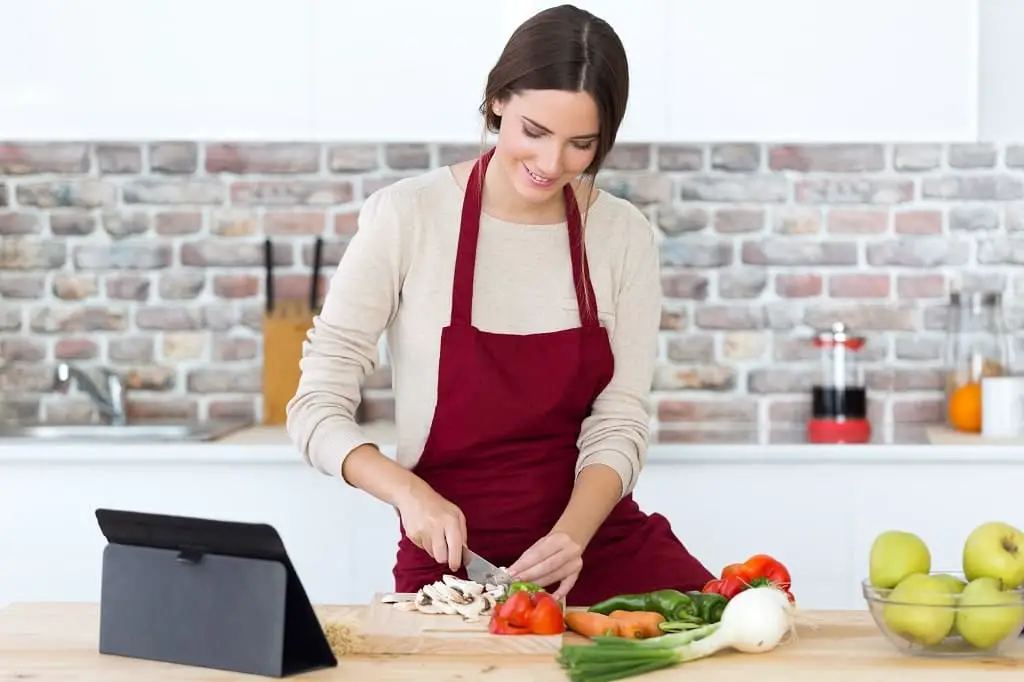 It is designed to direct-to-consumer kitchenware that encourages home cookware with some special features like easy accessibility, top-quality construction cookware, exclusive recipes, and educational resources at just half the cost.
Here we are going to discuss more Abbie cookware the below. So, let's have a quick look.
Abbie Cookware Review in 2022
One of the most trusted cookware brands by professional chefs, Abbie has designed complete cookware to fulfil your all home requirement through just one option. It is available at a reasonable price than the other popular brands offer.
The Set contains Abbio's large Nonstick Skillet, small Nonstick Skillet, sauté pan, stockpot with lid, Saucepan with lid.
It's the best choice considering modern, timeless cookware technology and finely constructed for everyday use and effortless cleaning. The best part is, it comes with a hot pad option with different colors to use. You can choose as per your taste.
You don't have to waste your time to search for other pots and pans required for your kitchen. Everything you will get just ordering one product.
You will be going to achieve a pleasurable experience, using this Abbie cooking set daily. So, scroll further to discover in brief.
Pros
Comes with fully-clad construction
Even heat for optimum performance
Scratch-resistant surface
Easily fits with every kind of stovetops including induction
Care and cleaning are just painless
Cons
Insulation free handles cannot provide you with better safety.
Stay away from steel scrubber for cleaning.
Why is Abbie Stockpot only one product that is ideal for your kitchen top? We are going to discuss it in below.
Let's begin with its size. It offers just-right size 9.5" for cooking pasta, noodles and other not so large recipes. It is also not too heavy in weight to carry from stove to sink.
Now research more about its performance. It offers you excellent heat distribution technology with the fully-clad construction over the product. It helps boiling water quickly and properly for your veggies.
The stockpot comes with a strong lid that allows you to relax and easy cooking, even you are not present in the kitchen. It's a genuine and trustworthy product that is engineered with ergonomic handles for better gripping.
The smooth touch of stainless steel makes the pot more elegant and reliable for timeless cooking. Also, Abbie stockpot is oven safer up to 600-degree C.
Pros
First-class heat distribution technology
perfect lid with a safe handle for comfortable gripping
Offers perfect shape and walls for better evaporation
Heat tolerant handles make it a joy to cook.
The best part is it offers a high-temp silicone hot pad for serving.
Cons
No transparent lid for better observe
Insulation free handles
Abbie Small Non-stick skillet is just perfect for cooking stickles fried eggs. You can also go beyond that and use it as a pan for cooking chicken thigh, a small filet of salmon, etc. It is small in size but a powerful item for your kitchen top.
With high-quality non-stick coating, the skillet is made up of fully-clad construction. It enables a scratch resistant surface with toxic-free coating like PFOA.
The product comes up with strongly reinforced ergonomic handles for perfect gripping. You can place the skillet on every type of stovetops.
For a better serving, it offers a high-temp silicone hot pad with color variations. It ensures both safety and longevity of the product.
Pros
Good-quality non-stick coating
Strongly riveted handles
comes up with different colors
Long-lasting product and oven safer up to 450 degrees F
Cons
The skillet has no lid option.
There is no insulation on the handlebar
What makes the Abbie Saute pan just perfect for your kitchen top? Let's find out the best reasons behind it. First, we will talk about its size. The size it offers is accurate and big enough to cook for your entire family members.
Now its time to talk about the ergonomic handle of the Abbie Saute Pan. The manufacturer has introduced a perfect and sturdy handle for better gripping the pan during cooking. The pan has a small helper handle on its side, which is strongly riveted, but it is not large enough to comfortably move the pan.
It also presents a snugly fitted lid made of stainless steel with a helper handle. It provides safety and helps to store moisture of the food.
Also, when you wouldn't present in the kitchen, you will be helpful throughout the lid the pan offers.
Pros
The sauté pan offers fully-clad cookware
Superior heat consistency and evenly heat distribution
Comes with a strong lid
oven safe up to 600 degrees C
Provides pleasurable cooking experience
Cons
The handle is free of insulation and small in size.
Abbie has presented the large Non-stick Skillet for your daily kitchen use. It is perfect for providing even heat distribution for cooking, stir-frying, or the most delectable seared tuna. Based on high demand, the pan is designed potentially.
You will confidently use this skillet for cooking for your complete family dinner in just single chance.
The elegance of the Large Nonstick Skillet by Abbie begins with the ergonomic handle that makes it possible to move around the stove rapidly and effortlessly. The top-quality coating offers scratch-resistant surface that is important for effortless oil-free cooking.
The ultra-rugged structure of fully clad steel and aluminium offers you excellent temperature stability and guarantees you long-lasting quality.
Both Abbie products come with a high-temp silicone hot pad so that you can serve your warm recipe proudly on your tabletop.
Pros
Super quality coating
Free from toxic elements like PFOA
Oven safe up to 450 degrees C
Ensures durability with a beautiful look
Compatible with every type of stovetop including induction
Cons
Helping handle is not present for comfortable holding.
Not effective in reducing heat and safety
Final Verdict
Abbie is truly a trustworthy brand in the cookware industry for offering a wide range of best quality products. Even if you are a beginner in cooking, you will get most of the benefits by using the Abbie products. The products are lightweight and easy to carry. You can afford these fantastic products at a reasonable price also.
So, cook your favorite recipe using Abbie cookware set and enjoy the pleasurable cooking experience rather than the other products. You will also find too many options in this cookware product, so easily you can choose your preference among many.