This post contains affiliate links. When you buy through our links, we may earn a commission.
The clam chowder is a soup in simple words. Commonly chowder soup has salt pork and a mix of different vegetables. The name clam chowder comes because it has clams in it. The vision of this article is to help you understand what food goes well with clam chowder.
There are different kinds of chowder throughout the world. The clam chowder has clam in it. It is unique and still has regional varieties. People usually don't order it as an only dish. Clam chowder is eaten alongside many main and side dishes.
What is clam chowder made of?
In American cuisine, any chowder soup that contains clam is clam chowder. Clam chowder's common ingredients are salty pork, diced potatoes, onions, and simple vegetables.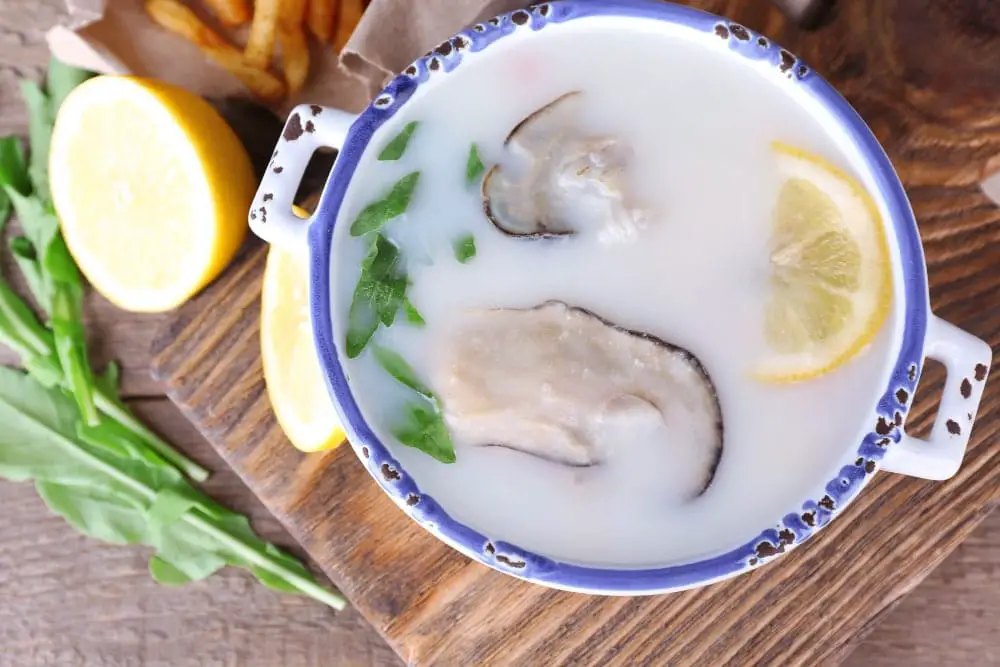 New England has their white clam chowder, which is made of milk. Manhattan has their outstanding red clam chowder where tomato is an ingredient.
What the main dish goes with clam chowder
Clam chowder is such a delightful dish. It's creamy, soothing to the tongue, and can be of various flavors. Some say this is one dish is enough and we respect their opinion. Many side dishes accompany this dish. A soup lover can go with this one soup. It's better accompanied by other side dishes.
10 Delightful Foods Go Well With Clam Chowder
One can't go wrong with whatever he or she decides. We have found some dishes to ease your hustle. Here we'll suggest some vegetable-based sides. This will add a compliment to your plate.
You be the judge to choose the best one for you. Ultimately the clam chowder and side dish both should be based on your meal plan. Here we will help you with what food goes with clam chowder. Hopefully, you'll be delighted to pick from our ideas.
1. Simple Corn on the Cob
Very easy to make the dish. One can easily make this by adding his or her creativity.
The sweet juicy taste complements the salty, savory flavor of clam chowder.
This is popular throughout the year, but summer is the best time to have it. You can use some garlic or basil leaf to add some extra flavor to your corn.
2. Caesar Salad
Caesar Salad is quite famous and traditionally dines in many restaurants. It gives something crispy, crunchy, and creamy flavor to accompany clam chowder. You can use additional ingredients like eggs, spices to add it up.
The Caesar salad generally includes roman lettuce, which is quite crispy. Parmesan cheese and black pepper are added to that.
3. Rolls or Bread
What option can be there other than bread? Bread of any size is better to round off the clam chowder.
Rolls or perhaps bread blends perfectly with any soup so that you can go for that.
4. Oyster Crackers
Oyster Crackers were invented so that you can enjoy clam chowder. Throughout the year's many people have shifted towards bread. If you happen to like clam chowder, then do go for it.
When you think about what foods go with clam chowder, this should be the first thing on your list. The main reason is that this was made for clam chowder. One can easily buy oyster crackers from your nearest grocery store. You can make it at home as well, so no worries.
5. Seafood
There is no better way other than touching it with simple seafood. You can stop limiting yourself by having different simple seafood with this dish. A little dip in the clam chowder can make ordinary seafood into seafood delight.
We have some of the recommendations that you can input into your trial list. You can start with Mussels, fish tacos, salmon cakes, lobster rolls, lobster or shrimp boil, and Bacon wrapped shrimp or scallops, Shrimp cocktail, etc.
6. Spinach Salad with Fruit
This will turn into a beautiful combo. You can add salty clam chowder with refreshing, sweet salad and fruits. You can decide to put whatever fruit you want.
A simple option that we think works really well is a spinach salad with blueberries. You can also add different berries. We suggest you use the fragrant dressing to top the salad. This will keep it light and help you deal with the creaminess.
7. Cornbread
We know cornbread is a kind of bread. Meanwhile, its unique taste puts it in a different category. We had to give it a unique position because of its specification.
Cornbread comes up with its sweet flavor. Its thick texture is great at soaking the moisture from a clam chowder. These two different tastes combined in great for elevating your mood.
Another fun fact is you can cook both at the same time. While you set cornbread on bake, you can actually focus on preparing your clam chowder.
8. Thin French Fries
Thin French fries are amazing with clam chowder. The fish and chips is an amazing combo, and this is no less than fish and chips. There is a reason fish and chips are soo famous. You can think and notice that this is basically the same concept.
There is potato already in it. The taste doesn't get hampered while having it with French fries. Either you can have it with seasoning or just simple frying. You can get the filling of a sauce by dipping it in the chowder.
9. Roasted Veggies
Serving clam chowder with roasted veggies is definitely an award-winning choice. You can use whatever veggies are available and easygoing. Roast them in butter, organic oil, and according to your personal preference. Use any spices you like, and it will not cause trouble. The elegant taste of the clam chowder balance the whole thing.
Basically, you can use any vegetable you like. We will recommend veggies like carrot, squash, pumpkin, corn, and pepper, etc.
10. Sourdough Bread
Out of all these side dishes, the chowder bread bowls are quite popular. There are different types of bread to start with. Particularly the sourdough goes pretty well with the clam chowder.
One can choose a different serving style. For instance, individual rolls, bread slices, or whole loaf. The sour flavor is what makes it most unique.
Frequently Asked Questions (FAQ)
1. What Sandwich goes with clam chowder?
Ans : Any flavor that doesn't fight with the clam chowder will go with it. Tuna fish would not be a great choice as it would clash with clam flavor. Pickles or mustard is also not something that you might want to add.
Tomato, Cucumber, and lettuce with simple mayo van go amazingly with clam chowder. This can be a classic. Some chopped-up fish, for instance, salmon, can be a great choice. Any fish that's not too fishy like tuna can complement clam chowder. Overall, anything that doesn't fight the flavor is good to go.
2. What dessert goes with clam chowder?
Ans : Any salty dish goes well with sweet mouthful flavors. So it's a great idea if somebody wants to pair the plate with something sweet. Chocolate and dessert related to this can be a great choice. Chocolate mousse or any other kind of chocolate dessert can be an amazing choice.
Different fruit-based dessert is a great choice. Fresh and sweet ones are what blend greatly with clam chowder. One can also go with apple pie and stuff like that.
Sweet and light dishes blend greatly. So don't take chocolate brulee or cheesecake out of your list.
3. What bread goes well with clam chowder?
Ans : Any bread can go well with this soup. Homemade bread is genuinely the best option. Sourdough is definitely another great choice to start the day.
Nobody will complain if you want to go for baguette, butter roll, or Hawaiian roll.
4. What meat goes with clam chowder?
Ans : We already have salty bacon and clam in it. People usually don't add other meats with this, but certainly, there are options. Other seafood fried, boiled, or smoked is good to go to dip in this clam chowder.
From honest reviews, it's heard bacon-related dishes go well with clam chowder. Fishes with tender and mild taste go well with this dish. Salmon is a great fish to go for.
5. What salad goes with clam chowder?
Ans : Salads can be of different kinds, and all goes well with clam chowder. From other traditional restaurants, we can see that fresh and crispy salads go well with clam chowder.
Spinach salad with fruits goes well with our dish. It is widely suggested to go with blueberries or other fresh and sweet fruits. Even the most precious fruit can get balanced with clam chowders' salty, savory taste.
Conclusion
We hope you have an overall idea of the whole thing. Hopefully, you have grasped a good concept of what foods go with clam chowder. You can add your own twist to your dish.
There is a lot more variety in this, but this is all that you need to have a general idea of clam chowder. People throughout the world personalized this clam chowder and side dishes. What we showed are some of the most popular and delicate ideas. That is all you need if you are looking to enjoy a delicate clam chowder.