This post contains affiliate links. When you buy through our links, we may earn a commission.
It is very important to compare cookware and its cooking surface as it makes a huge difference in food quality and taste.
Here in the post, we will compare Misen vs. HexClad Cookware to better understand their qualities and construction.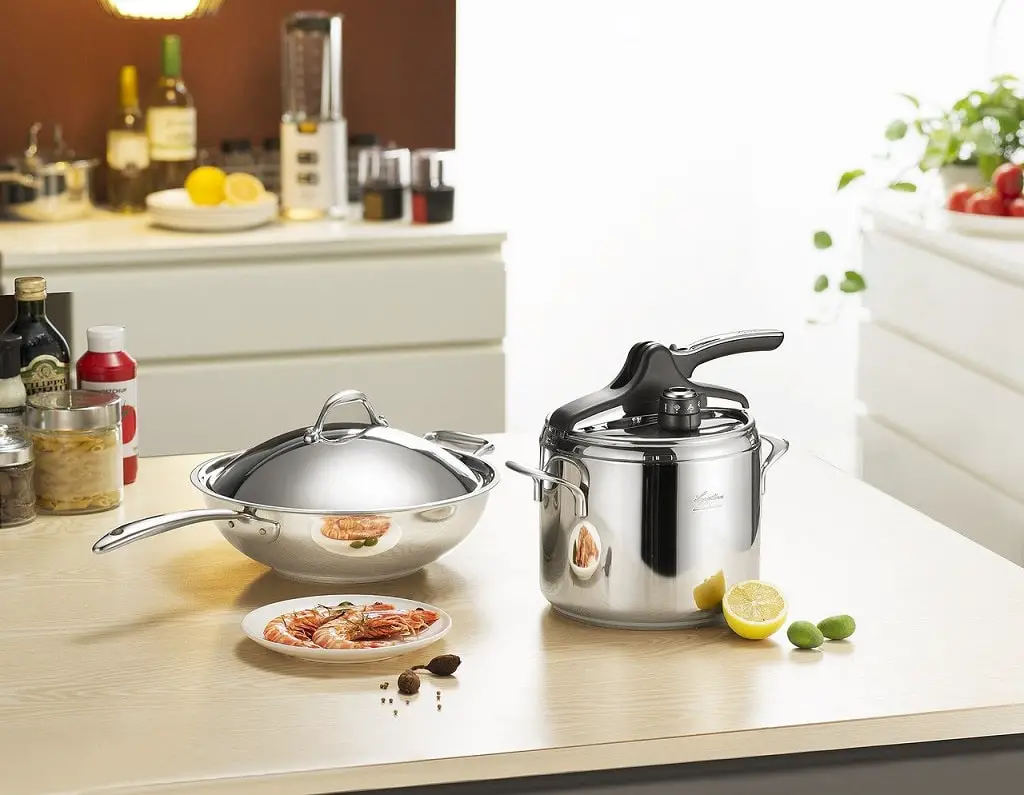 By the end of the blog, you will have important factors in your hand to choose the best-suited brand for your cooking style and kitchen.
Before finalizing cookware, you must consider its materials, cooking performance, look and feel.
Misen Cookware
Misen Cookware is a professional cookware brand used by chefs for quality cooking and serving. The brand is precisely tested and made up of multiple aluminum layers properly sandwiched in between stainless-steel sheets.
The perfect combination of aluminum and stainless steel offers the best heat distribution and durability. The stainless steel provides great looks and reduces the risk of leaching aluminum into your food and turn them greyish.
HexClad Cookware
HexClad cookware is the best brand both for its cooking efficiency and aesthetics. The cookware will for sure impress you will fall in love with its cooking performance. The brand and its cookware come with patented 6-sided hexagons designs.
HexClad 7-Piece Hybrid Stainless Steel Cookware Set with Lids and Wok - Metal Utensil and Dishwasher Safe, Induction Ready, Easy to Clean Non Stick Fry Pan with Covers
HexClad Cookware combines high quality stainless steel with a laser-etched non-stick surface using our patented hexagonal design to provide the ideal hybrid cooking performance. Utilising a tri-ply construction, our cookware has a layer of aluminum encapsulated between two layers of stainless steel for perfect heat distribution.
HexClad Cookware is completely non-toxic. The surface is a combination of ceramic, diamond dust and stainless steel for the best balance of utility and performance.
HexClad Cookware is ready for any kitchen, thanks to compatibility with all types of cooktops including induction, gas, electric, and ceramic, as well as being oven-safe up to 500 degrees Fahrenheit. Please note HexClad Lids are only safe up to 400 degrees Fahrenheit.
Keeping your HexClad Cookware looking clean is a breeze; the surface is metal-utensil resistant to avoid scratches and can be cleaned with steel wool pads and scorching. In addition, all HexClad Cookware is dishwasher-friendly (though hand-washing is highly recommended).
The hexagonal design is precisely made with the help of laser etching technology on every product.
The brand does offer its consumers superior nonstick properties. It serves you with a healthier diet with no use of oil or butter. All the products are safe and durable for daily cooking as it is made up of 3 layers of metal.
The core of the cookware comprises aluminum, which is sandwiched precisely in between 2 layers of stainless steel.
Misen vs HexClad Cookware : Comparison
It is not simple to compare the brands as both come with fantastic features. These brands are best known for their cooking and durability. Still, we gave our best to compare the cookware in terms of their materials, construction, price, and other cooking aspects.
| Features | Misen Cookware | HexClad Cookware |
| --- | --- | --- |
| Design and Looks | It comes with a brushed stainless exterior. | Comes with laser-etched hexagonal designs |
| Handles and Grips | Silicone wrapped handles with superb heat resistance. | Durable riveted handles with no silicone coating |
| Build Quality and Construction | Ships with durable 5 layered form factor. It is made up of aluminum, stainless steel, and carbon steel. | Offers 3-layer construction of aluminum and stainless steel and nonstick coating. |
| Suitable Temperature Range | Safe to operate at about 500°F and 900°F for stainless steel and carbon steel, respectively. | The brand ensures safe cooking up to 500-degree Fahrenheit. |
| Induction Compatible | Perfectly works with an induction cooktop. | It perfectly works on top of the induction. |
| Safe with Metal Utensils | For stainless steel cooking surface, it is safe but not recommended with nonstick coating. | The hexagonal laser-etched cooking surface supports metal utensils. |
| Demerits | No warranty on nonstick coating. | Very costly and suffers from food sticking issues if not seasoned properly. |
Misen vs. HexClad Cookware – What's the Difference?
This section will elaborate on the differences, which will help you analyze which one to choose. We suggest figuring out your needs and cooking style, which will help you pick the best cookware with no hassle.
Design and Looks
Misen Cookware
The Misen Cookware imposes more focus on traditional cooking and design concepts. The stainless-steel form factor ships with an elegant brushed exterior with hollow steel handles with silicone wrapping.
The nonstick coating of Misen is precisely infused with the thick layer of stainless-steel cooking surface. The base of the cookware is made up of aluminum which helps in superior heat distribution.
The Misen carbon Steel sports collection brushed cookware is best for handling extreme heat cooking.
HexClad Cookware
You will notice a big difference in their design concept. The proprietary construction technique and the laser-cut hexagonal designs of HexClad deliver the best aesthetics.
All their products come with a hexagonal cooking surface design with groves and raised ridges. The pattern serves a better cooking experience and simplifies cleaning hassles.
The Brand HexClad serves its users with round, stay cool handles with sleek tempered glass lids.
Build Quality and Construction
Misen Cookware
If you want something more traditional, then Misen is for you. It serves all modern cooking techniques without eliminating the authentic old cooking tradition. The brand offers its customers 5 layered aluminum clad construction.
The cookware's exterior layers are made up of 18/10 stainless steel, and the inner 3 core layers are made up of aluminum and its alloys.
The nonstick coating is a commercial-grade plasma primer that is finished with DuPont's nonstick coating layer. The bottom solid steel plate allows the cookware to work on top of the induction stovetop.
The Misen carbon steel construction brings lightweight and durable features—the cookware ships with seasoned nonstick capabilities.
HexClad Cookware
HexClad cookware blends both stainless steel and aluminum in a triple layer form factor. The cooking surface remains free from stains and other food marks.
The aluminum layer is perfectly sandwiched with dual layers of stainless steel. The aluminum helps in delivering heat uniformly, and the stainless steel enhances its durability.
The cookware is beautifully laser-etched with hexagonal patterns, which delivers the best nonstick properties. The consumer enjoys the easy-to-clean surface texture with superior searing performance.
Heat Conduction Capabilities
It is very important to have cookware with superior heat conduction properties. It is always advised to have a cookware set which heats up fast with no cold and hot spots.
While comparing the Misen and HexClad Cookware as per their heat conduction properties. The HexClad Cookware beats Misen Cookware by a slight margin. The water boiling performance of HexClad is better than Misen.
The HexClad wins because of its thin 3 ply construction, whereas the Misen ships with 5-layer construction. The best thing is that both the pans distribute heat uniformly across the pan.
Heat Retention Properties
The heat-holding capacity of cookware plays an important role in maintaining your cooked food's real texture and taste. A pan needs to heat faster and retain it for a longer time.
As per our comparison and customer reviews, the Misen cookware stands out to be superior in retaining heat to HexClad Cookware.
The reading we found is scientifically justified as Misen cookware comes with stainless steel 5 ply construction.
Oven Safe Temperatures
Both the brands Misen and HexClad cookware comes with oven-safe constructions. It supports you to cook all types of food operational on stovetops and ovens.
While comparing the manufacturing details of both the cookware brands, we came up with interesting results.
All HexClad's cookware options are safe to bear, beat up to 500 °F. Similarly goes with Misen's stainless steel cookware.
However, if you choose a Misen Nonstick cookware, it can serve stable cooking up to 450 °F, and if you opt for a carbon steel pan, it boosts the temperature up to 900 °F.
The silicon handle cover is safe to withstand heat up to 500 °F. So, we recommend unwrapping the silicone covers before extreme temperature cooking.
Misen vs. HexClad: Which Brand Is Better?
Yes, HexClad indeed comes with a unique hexagonal design that offers modern aesthetics to your cooking. It is a good technique to promote their products and serves a reliable cooking experience for all recipes.
Well, it doesn't signify that HexClad is the best cookware out in the market. There is always a demand for affordable premium-quality cookware. To fill the gap, Misen offers its consumers durable, best design cookware for all home cooking.
If you want to add something unique and different to your kitchen, HexClad is the best option. However, for better-controlled cooking with a variety of cooking surfaces, then Misen will serve you best.