This post contains affiliate links. When you buy through our links, we may earn a commission.
Do you want to prepare powdered sugar at your home?
Does powdering sugar require special tools for its preparation?
In this era of adulteration, everyone prefers to have homemade food. It not only reduces health risks but also saves a good amount of money.
You might be conscious to know "How to make powdered sugar by hand?"
To make things simpler to understand, we came up with some original methods to prepare powdered sugar. It will fulfill all your desserts and other delicacies requirements and offers the best quality sugar icing results.
Can You Make Powdered Sugar at Home?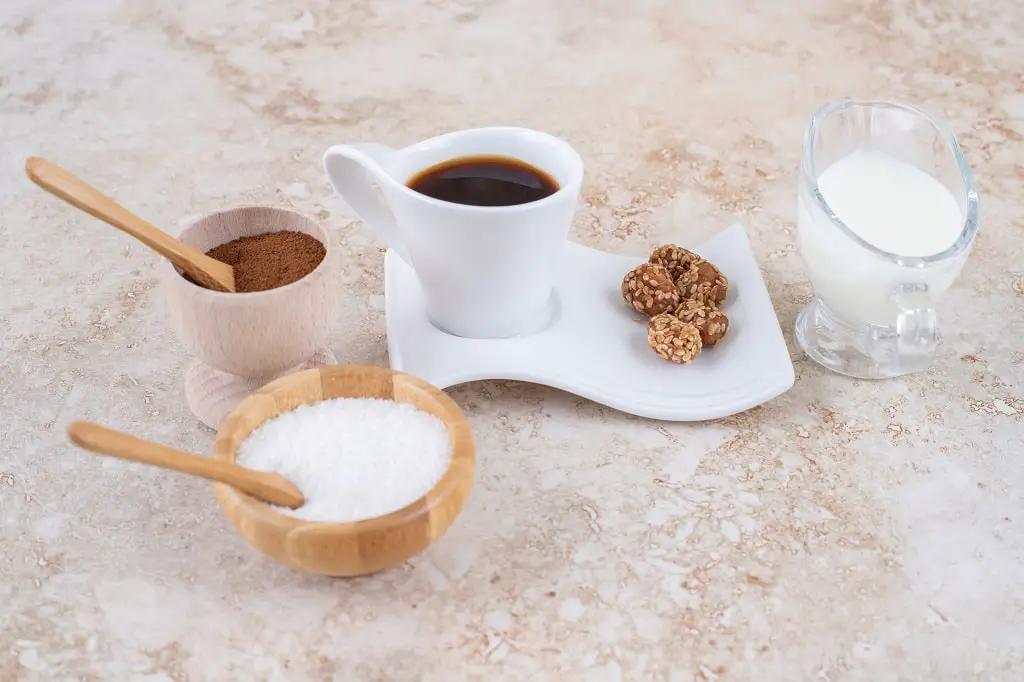 Yes, you can make powdered sugar at home. It is one of the simplest methods to prepare powdered sugar at home, is a blender. It takes around 10 minutes.
We mainly use powdered sugar for icing food items. A freshly prepared powdered sugar is best for cakes, cookies, and muffins. It is also true that people with a lack of powdered sugar use granulated sugar, but it reduces your food texture.
What is the primary use of powdered sugar?
The main and common use of powdered sugar is for coating. It can be fixed both with fats and water. We also use it for dusting on top of desserts, cookies, and other sweet food items.
The best advantage of using powdered sugar over regular sugar is that it dissolves instantly. It doesn't require the food to be cooked.
Powdered sugar, in general, contains 3 to 4 percent of scratch in it. It helps in delivering an additional precise thickness and viscosity than granulated sugar.
Ingredients You Need to Make Powdered Sugar
There are certain tools and some raw food materials that you need to make powdered sugar.
A food processor or blender
Granulated sugar
Corn flour or Cornstarch
You need to balance the above ingredients in an organized way which helps in superior results.
It would help if you had a small, powerful blender; it can be a spice grinder, coffee grinder

, or

food processor. A blender serves the best sugar powdering with no grit experience.

Add granulated sugar and Cornstarch to the blender. The use of Cornstarch helps the powdered sugar to free from moisture.

Run the blender for around 4 to 5 minutes until you achieve finely powdered textures free from grit. Stir the powdered sugar with a spatula for better mixing of sugar.

Check the powder with your fingers for the level of grit. If it feels heavily gritty, then keep the blender on for few more minutes.

It is always recommended to have a powerful blender as it helps in better powdering results in less time.

It is very important to store the homemade powdered sugar in an airtight jar. It enhances the self-life of the sugar for approximately 3 to 4 months.
How to Make Powdered Sugar by Hand?
You can indeed make powdered sugar by hand. However, it is not the best method to achieve desired results. By using a mortar and pestle can offer you authentic evenly crushed powdered sugar, but the process consumes extra intensive physical labor with additional time.
What type of sugar to use at home for preparing powdered sugar?
Mostly it is recommended to use granulated sugar for making powdered sugar at home. It can be raw turbinado sugar, white sugar, coconut sugar, or maple sugar.
However, brown sugar is the worst sugar to prepare powdered sugar. Brown sugar is the form of white sugar with the addition of molasses on them. The brown sugar makes the sugar powder too sticky to use, and storing it is also impossible.
Powdered sugar is used in a variety of recipes and desserts preparations. Some of the preparation includes:
Best for buttercream frosting to decorate cupcakes, cakes, and much more
Rolled fondants for cake covering
Perfect for snowball cookies
Serves best as homemade sprinkles
How to Make Powdered Sugar Without Blender?
Even if you don't have a blender or prepare powdered sugar at home, it is still possible. Here you can use a coffee grinder to get uniformly crushed powdered sugar. The steps of powdering with a coffee grinder are the same.
However, makes sure not to fill the grinder to its maximum level. It can reduce the consistency of powdered sugar. Always clean the coffee grinder thoroughly, or else it will spoil the taste of the powdered sugar.
How to Make Powdered Sugar Without Cornstarch?
We all need powdered sugar for preparing unique dishes which demand season. Powdered sugar is mainly known as icing sugar or confectioner's sugar. It is not more than any regular granulated sugar. The main advantage of having powdered sugar is its uniform powdery consistency.
Most readymade powdered sugar comes with a proportion of Cornstarch in it. The addition of Cornstarch enhances the storage lifespan and prevents the sugar from clumping and caking. Cornstarch is very important in providing thicken icing on top of your delicious desserts.
You can indeed make powdered sugar at home without using Cornstarch. However, this technique reduces the self-life of the powdered sugar. So, you need to be more conscious regarding its safe and hygienic storage.
There are substitutes of Cornstarch available out in the market, making it best for icing or frosting. It also eliminates the storage problems of freshly prepared powdered sugar. You can replace the Cornstarch with an equal amount of arrowroot or tapioca starch.
Important safety notes for starting powdered sugar with no cornstarch.
You can store the powdered sugar for approximately 3 to 4 months in an airtight container.

Always prepare powdered sugar in small batches and use it as soon as possible. Later prepare a fresh batch if required.

A heavy bulk of powdered sugar needs extra effort and labor for achieving moisture-free storage.

There is no need for refrigeration.

Always use a dry and clean spoon with enhances the self-life of the powdered sugar.

In some cases, people refrigerate powdered sugar to extend its life. However, it is only possible if your storage jar is 100% airtight.

Most of us use corn flour over powdered sugar as it acts as a sleeve for icing sugar.
How to Make Powdered Sugar with Baking Powder?
Yes, you can make powdered sugar with baking powder. All you have to take the desired amount of granulated sugar in a food processor or blender. Crush the sugar cubes at high speed, which offers you with best evenly processed powdered sugar.
Make sure to blend the sugar for a prolonged time which ensures in delivering superior fine powder consistency.
In the case of homemade powdered sugar, you need to add the baking powder to it. It helps in delivering a thick texture when used for icing or other toppings on desserts.
Also, you need to be careful enough to store the powdered sugar in an airtight container. We mostly suggest our users use powdered sugar immediately after preparation.
What is the role of mixing the baking powder in powdered sugar?
As per chemical composition, baking powders act as a dry chemical leaving agent. It is the mixture of carbonate or bicarbonate with a weak acid. The main role of mixing baking powder with powdered sugar increases the volume and lightens the baked foods' texture.
When you add powdered sugar-containing baking powder to a bake-able dough, it releases carbon dioxide gas.
The reaction happens because of the acid and base content of the dough. The carbon dioxide helps in creating bubbles in the wet mixture. The dough expands with time and leaves behind a fluffy texture.
Baking powder also reduces the risk of the unwanted flavor of fermentation. It also helps in faster baking results because it can release a heavy amount of carbon dioxide than fermentation.
So, baking powder in powdered sugar is always best for preparing cakes, cookies, biscuits, and other baked goods.
Tips for Making Powdered Sugar
It is very simple to make powdered sugar or icing sugar at home with just 4 things around you.
Regular granulated sugar
Moisture free Cornstarch
A blender or food processor
Peace of mind and patience
Multiple websites say powdered sugar needs 30 seconds to prepare, but it is not practically true. However, the whole preparation and process nearly consume 5 to 10 minutes.
A regular blend takes around 5 minutes to grind the sugar to achieve a finely crushed smooth powder. At the beginning of the process, you need to add the right proportion of sugar and Cornstarch to the blender. Also, make sure the lid is secured well, or else you will experience an unseasoned snowfall in your kitchen.
Run the blender until you achieve granule less finely crushed powdered sugar. Check the sugar's texture with your fingers, and it must feel soft to touch with zero grit.
Steps to Make Icing Sugar at Home
Steps are too simple to perform with common kitchen tools and ingredients with the desired amount of patience and willingness.
1st Step – Add an adequate amount of regular sugar or caster sugar or granulated sugar with a tablespoon of cornflower in a blender or food processor.
2nd Step – Blend the sugar until it offers a fine uniform powdery texture with no girts. The blending process takes a good amount of time. So you need to sit for a while and hold your patience.
3rd Step – Randomly check the powdered sugar with your fingers after regular time intervals. If you feel the gritty texture, then repeat the blending process for few more minutes.
4th Step – Once you are done with your powdered sugar, now it's time to think about its safe and hygienic storage. We always recommend our users store powdered sugar in a good-quality airtight jar.
Frequently Asked Questions (FAQ)
Does powdered sugar smell?

Yes, powdered sugar smell picks up smell quicker compared to normal sugar. However, powdered sugar with the scent is not spoiled by any technical means. You can use powdered sugar on your pancakes within any issue.

You will find powdered sugar, a type of finely grounded sugar perfectly blended with Cornstarch in most cases. Cornstarch offers an authentic sweetening taste with fine characteristics with powdery consistency.

Can I use regular sugar instead of powdered sugar?

Yes, you can use regular sugar instead of powdered sugar to prepare your dishes. However, you need to maintain a proper balance between regular sugar and powdered sugar.

1 cup of regular sugar is equal to 3/4th cup of powdered sugar. Powdered sugar is best for moist quick loaves of bread and muffins. However, it is not recommended to use powdered sugar while preparing recipes like creaming butter and sugar.

Can you use flour to make powdered sugar?

Yes, you can use flour to make powdered sugar. In most cases, we use arrowroot powder, organic Cornstarch, and tapioca flour. We are adding one tablespoon of flour to one cup of powdered sugar.

The commercial powdered sugar generally contains Cornstarch which eliminates caking and clumping. If you are willing to prepare powdered sugar at home, it is always suggested to add flour.

Adding Cornstarch enhances the efficiency of powdered sugar with butter icing and glazing functionalities.

What is a healthy substitute for powdered sugar?

Artificial sweeteners, including NutraSweet or Splenda, can act as a healthy substitute for powdered sugar. You can mix the above artificial sweeteners and Cornstarch and precisely grind it using a blender.

However, make sure to use the mixtures only on recipes that require sweetness. The best purpose of using artificial sweeteners is to demand less amount for offering the same amount of sweetness.
Conclusion
We all love sugar-coated food just after a complete meal. It makes our mood refreshing and fills the soul with happiness.
It is true that excessive sugar reduces our body's immune system and spoils the self-healing efficiency too.
So, it is always safe to use homemade powdered sugar, which keeps your family, friends, and kids from toxic elements.
However, homemade icing sugar needs an airtight jar for storage which extends its shelf life. Always use a dry and clean spoon which reduces the risk of contamination and moisture.