This post contains affiliate links. When you buy through our links, we may earn a commission.
Do you love eating fried food?
Do you know the correct technique for frying food?
For achieving a perfect crunch and crispiness on the surface of the food, you need to work on your frying skills. There are multiple methods of frying which helps in achieving the best flavor and texture. It enhances the overall taste of the food if fried precisely under control temperature.
This post will give a clear idea of choosing the right frying equipment, frying technique, and best oil. Safe frying is only possible if you maintain an authentic frying methodology with minimum utilization of oil.
What is Frying?
Frying is a cooking method where heat is transferred to the food item. The food is fully or partially dipped in hot oil with uniform heating.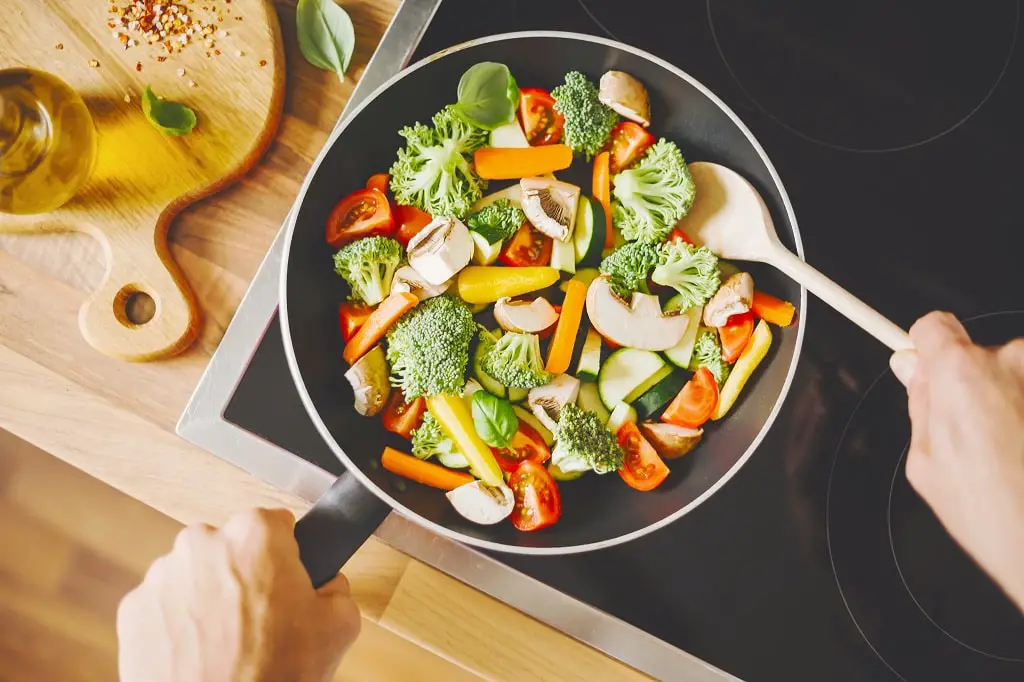 Most of us love to eat fried food not only because oil transfers heat much quicker than air. Frying offers multiple advantageous benefits to your favorite food item. It adds a flavor and crispy textures on the surface of the food being fried.
On frying, the food gains fat and contributes richness and flavor to your food. The oil you prefer increases the lubricity and increases the calorie count too.
Top 5 Methods of Frying
Frying is one of the traditional and ancient cooking methods. There are multiple types of frying techniques popular nowadays.
Let's check out the top 5 methods of frying to adds the best crunch and crispiness to your food.
1. Deep Frying
Deeping Frying delivers the best-fried texture to the food. However, there is a misconception that deep-frying food is harmful to health. There is no such rule that deep frying will spoil your health and well-being.
We mostly deep fry using a frying pan or large pot. Deep frying allows the food to cook faster and offers a creamy, crunchy texture to the food. Deep fry is the best frying technique to achieve a golden consistency from the outside and oil-free from the inside.
Deep frying is mainly done at higher temperatures only. We recommend using sunflower oil or vegetable oil for deep frying as these oils come with a high smoke point.
2. Stir-Frying
It is one of the oldest yet effective frying technique. The procedure offers quick, easy, and delicious food without compromising health. Stir-frying is a chinses cooking method in which you have to add a heap of ingredients together in a wok. Then add hot oil and stir continuously.
The frying techniques demand a significantly less amount of oil, which makes it a healthier frying option. The stir-frying dishes mainly contains a stack of veggies paired with noodles. We suggest using peanut oil for stir-frying as the oil offers a high smoke point of 230 degrees.
3. Shallow Frying
Shallow frying is a technique that requires excellent skills to accomplish a fry job perfectly. We mostly use this technique to prepare veggies, fish, eggs, and a small portion of meats. Shallow frying is best for preparing chicken breasts, burger patties, and steak.
Shallow frying is performed at on high temperature with a small amount of oil. It allows the food to become crispy, brown and adds extra flavor to the food. The cooking speed of the frying is breakneck, which reduces the time of food preparation.
Always use a paper tissue to absorb excess oil from the fried food before serving. For shallow fry, we suggest you use macadamia oil as the smoke point is very high, which lies between 210 to 234 degrees Celsius.
4. Sautéing
Sautéing is the simplest and basic frying technique; it is mainly used for preparing soups and stews. Sautéing helps in easy browning and enhances the flavor of the ingredients. The frying process is very fast and primarily done using a high heated pan.
For perfect sautéing, you have to keep the ingredients moving around the pan. We recommend you use a wooden spoon in back and forth motion. Onion and garlic are the primary ingredients that always go with sautéing.
Use coconut oil or virgin olive oil for sautéing food like mushrooms, fish, capsicum, beef, and even tender vegetables.
5. Triple Cook Frying
If you love eating chips, then Triple cook frying is the best method for you. It is a standard procedure widely used for cooking chips.
Most of us think Triple Cook frying includes three times frying, but the real game is different. The procedure contains one round of steaming and two rounds of frying with an adequate refrigeration time in between.
It might not be the healthiest frying technique available in the market. However, it offers the tastiest fried food ever. For better triple cook frying, we suggest you use grapeseed oil or peanut oil.
What Equipment is Required For Frying?
It is essential to upgrade frying cookware with time. The quality of the material degrades on continuous high heating. So, it is recommended to buy frying equipment of good quality.
There are various types of cookware available out in the market which serve different frying techniques with ease.
Here are some best frying utensils that you can consider for your kitchen.
Dutch Oven – It is best to perform deep frying and be very effective for stocks, sauces, and soups.
Crepe Pan – Best for preparing pancakes and other fried egg dishes.
Frying Pan – Long handle frying pans are perfect for sautéing vegetables and preparing pasta sauces.
Nonstick Egg Pan – The pan is exclusively designed for egg eaters. It comes in multiple sizes and best for preparing an omelet.
Roasting Pan – The pan is best for roasting turkey but also serves multiple frying needs too. Best for sautéing meat slices and vegetables.
Traditions Open Wok – These utensils mainly comes in small or round base. The advantage is that it heats up rapidly and best for stir-frying and deep-frying.
Sauté Pan with Cover – Sauté pan is almost similar to a frying pan. The main difference is that it comes with tall, straight edges with lids.
Traditions Skillet with Lid – It is the same as a frying pan; however, the only difference is that the edges are taller. It is made up of cast iron for better heat distribution.
Conclusion
Frying food offers additional flavors with the twist of crispness and crunch. Perfect balance frying is only possible with proper frying methods with the right proportion of ingredients and oil.
It is very important to improvise the frying results just by implementing unique frying methods. We recommend you use high-quality stainless-steel cookware with non-stick coating for the best-fried food.
Try innovating new dishes and share your love with your family and friends.
Sale
T-fal Ultimate Hard Anodized Nonstick Fry Pan with Lid 12 Inch Cookware, Pots and Pans, Dishwasher Safe Black
Premium Design: Effortlessly prepare a wide range of recipes and enjoy the benefits of easy cleaning, perfect preheating, deep vessel shapes, comfortable handling, and superior heat distribution in one exceptional cookware set.
Durable Construction: The hard anodized exterior and forged design is built to stand the test of time. Titanium Non-stick coating keeps food sliding smoothly, making cooking easier and cleanup a breeze
Thermo-Spot Technology: Unique heat indicator turns solid red when pans are properly preheated so you'll know exactly when to start cooking for perfect results every time.
Comfortable Handles: Riveted silicone handles provide a comfortable and secure grip. Whether cooking a favorite recipe or an experimental new dish, this collection is tough enough to take on all your cooking needs.