This post contains affiliate links. When you buy through our links, we may earn a commission.
Why we mainly use a toaster oven?
Well, commonly, we use it for roasting, baking, and toasting.
Did you ever try a toaster oven for warming leftover food?
It might be a peculiar question for you all, but it is possible to warm your food on a plate before serving.
Wait! Can you put a plate in a toaster oven directly?
There are certain factors that one must consider before warming food on a plate in a toaster oven. This post will discuss every detail about safe food warming on a plate for everyone.
Can You Put a Plate in a Toaster Oven?
Yes, you can put a plate in a toaster oven if the manufacturers certify that their plates are oven safe.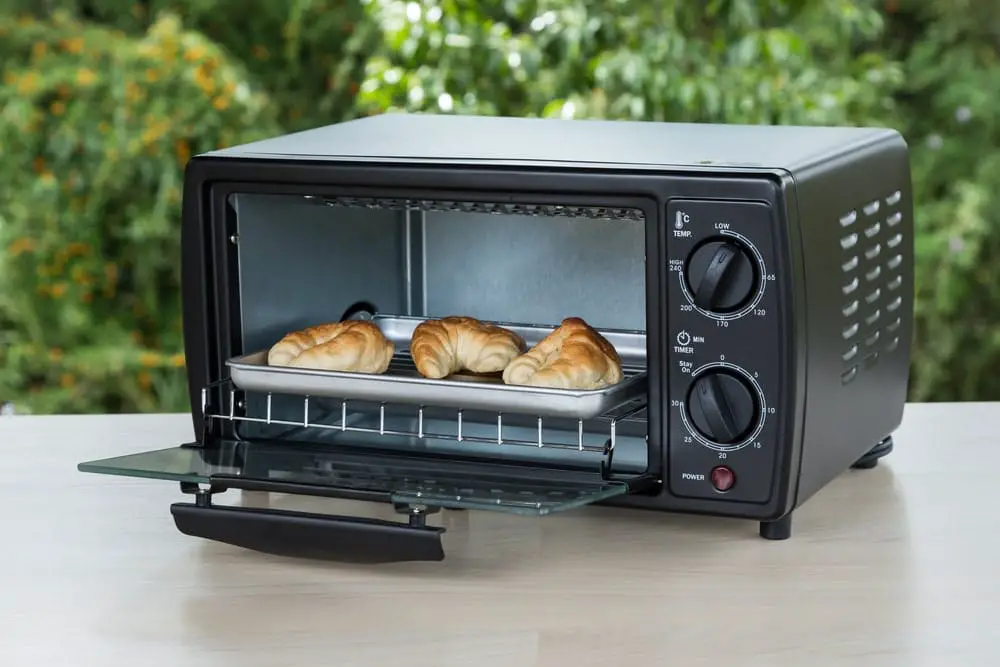 Always choose plates that come with an oven-safe symbol in its user manual. Read every single specification carefully before purchasing the set of plates.
In general, plates made up of ceramic, metal, or glass comes with oven-safe characteristics.
What Plates Are Safe to Put in a Toaster Oven?
It isn't easy to choose oven-safe plates just by comparing the materials. There are some popular materials available out in the market which come with oven-safe properties. However, we recommend you check the manufacturer's manual for safe heating.
(i) Can You Put A Ceramic Plate In The Toaster Oven?
Ceramic is a material that can withstand excessive heat without losing its stability. So, plates made up of ceramic can potentially perform best with toaster ovens.
Amethya │ Premium Ceramic Colorful Stoneware – Dinner, Meal Plates │ 11″ Dishes Set, Scratch Resistant, Microwave, Oven, and Dishwasher Safe │ Assorted Colors – Set of 6
【COLORFUL STONEWARE】In six beautiful assorted colors, each plate has a unique color in this set. Colors come in Green, Yellow, Red, Orange, Light Blue, and Purple. These colorful plates add a stylistic touch and brighten up your life. Eat comfortably and set tables elegantly. Great for everyday meals at home or large-scale holiday gatherings.
【MULTI PURPOSE】These stylish, colorful ceramic plates have an 11-inch (28.2 cm) diameter. Suitable for the whole family. Perfect for meals like stir-fry, pasta, steak, and more.
【ELEGANT AND PRACTICAL 】This dinnerware is made of sturdy stoneware ceramic and has a smooth glaze anti-scratch finish. Convenient to microwave without burning hands and nest well up against each other in the dishwasher, easy to clean.
【NICE and NEAT】These plates will stack nicely in the cabinet and increases space efficiency, making storage neat and compact. Easy to clean, you can wash them with soap and hot water or place them into your dishwasher
These plates are precisely designed to serve all extreme heat, food processing, and much more. On the other hand, the stoneware plates and earthenware plates ship with similar characteristics.
But if you want a durable heat-safe plate with a polished surface, then ceramics is the only option around.
As per user review and analysis, it is also true that ceramic dinnerware suffers from cracking issues because of uneven oven heating. To eliminate the cracks' risk, always go for sturdy, thick, and durable plates to deliver the best oven-safe performance.
Sale
Anchor Hocking 8-Inch Presence Glass Salad Plate, Set of 12
INCLUDES: This Anchor Hocking glass plate set contains (12) 8-inch glass Presence salad plates. The clean and classic design of the Presence collection makes it perfect for every occasion.
DURABLE: This plate set is a mix of durable glass and expert style. Microwave, refrigerator, freezer, and dishwasher safe. Crafted to optimize display so you can beautify more than your food.
SAFE: Anchor Hocking glass is healthier than plastic and metal. It will not warp, stain, retain smells, or leach chemicals into foods.
USE: These glass dishes fit the most casual homes and the finest restaurants. Classic, modern, or patterned – versatile designs mean maximum usage. Serve clearer. Serve safer. Serve on a statement.
(ii) Can you Put Glass in Toaster Oven?
There are glass plates that work perfectly with all types of ovens only if they are label oven safe. In general, not all glass dishes are oven safe, allowing manufacturers to serve premium-looking galls dishes at an affordable price.
Moreover, there are some authentic brands that promise its customer with ovenproof galls dishes. These glass plates ensure safe heat sustainability with the maximum temperature mentioned. Always pick the one with maximum heat stability for superior results.
If you are not confident about your glass plate quality and oven-safe characteristics, we all suggest using a small oven-safe galls ware to warm your food. Never try to perform experiments with unknown glassware as it may lead to a severe injury.
(iii) Can You Put Metallic Plates In The Toaster Oven?
Indeed, metallic plates made up of stainless steel and aluminium are not great in offering premium looks and feel. Moreover, metal plates are also not as popular as ceramic and glass plates.
Amscan Aloha Metallic Round Paper Party Plates – 10 1/2″ | Pack of 8
PACKAGE INCLUDES: 8 Multi-colored Party Plates – 10 1/2″
FLORAL DESIGN: These round paper plates feature pink and metallic gold Hibiscus flowers, green leaves, and a metallic gold "Aloha" Headline against a white background.
PERFECT FOR ANY OCCASION: These summer fiesta plates at your party table, dessert bar, buffet, and more. This is a must-have for any celebration.
HIGH-GRADE MATERIAL: These plates are made from high-grade paper materials making them more durable.
But what makes metal plates most preferable is their durability and stability to perform safely with the toaster oven.
While reheating food using an aluminium-made plate, make sure that your aluminium plate must not touch the oven's heating elements. In the case of stainless-steel plates, you can use them directly inside a toaster oven if the manufacture mentions that their product is oven safe.
Plates You Should Never Put in a Toaster Oven
It is not always safe to use all types of plates in a toaster oven. There are certain materials that you should never try to put inside an oven. The below-mentioned materials can cause severe injury or accident are used for heating food.
(i) Can You Put A Plastic Plates In The Toaster Oven?
In general plastic, plates are not meant to deal with hot food or heating food. Even using plastic plates for daily food consumption accelerates the risk of food poising issues.
Well, multiple premium brands offer superior plastic plates suitable to withstand 400 degrees of heat. But still, these plastic plates are not safe to be used in a toaster oven.
(ii) Can You Put A Styrofoam Plates In The Toaster Oven?
The main purpose of using Styrofoam Plates is to store cold food. The material is also not oven-safe because, as per research, Styrofoam tends to melt at about 212-degree Fahrenheit.
Moreover, if you use Styrofoam plates at extreme temperatures or store hot food, it will start deforming. The plates not only melt but also release harmful chemicals and toxic elements into your freshly cooked food.
(iii) Can You Put a Paper Plate in a Toaster Oven?
Most of us prefer to use eco-friendly paper plates for day-to-day use. But if you plan to use paper plates for heating food in a toaster oven, it's better to drop the idea.
Dixie Ultra Disposable Paper Plates, 8 ½ inch, Lunch or Light Dinner Size Printed Disposable Plates, 300 count (10 Packs of 30 Plates), Packaging and Design May Vary
NEW LOOK, SAME GREAT PLATE. Dixie Ultra heavy duty paper plates have a fresh, new design while keeping the same strong plate you love to handle your heaviest meals. During this product transition, we cannot guarantee which design you will receive
Dixie Ultra 8 ½ inch disposable paper plates are built strong with Flex-Proof Technology to handle heavy, messy meals
3x stronger than the leading comparable store brand paper plate and holds up to 2lbs of food
Microwave Safe, Cut Resistant, and Soak-Proof Shield that can handle anything from salad dressing to burger grease
As a toaster oven is small in size, which creates a high risk of plates touching the heating elements. If in case the paper plate touches the heating element, it can set your kitchen on fire. So, for safe cooking, we recommend not to use the paper plate in a toaster oven.
Suppose if you somehow manage the paper plates not to touch the heating elements still, it can catch fire under extreme temperature. So, paper or cardboard plates can never be used in a toaster oven, even at low temperatures.
Final Words
We hope you got a precise idea of what to use with a toaster oven. Similarly, there is no chance of using paper or cardboard, Styrofoam, and Plastic-made plates with a toaster oven.
Meanwhile, we can't be 100% assured to use ceramic, metallic, or glass plates direct inside a toaster oven unless the manufacturer certifies oven-safe features with them.
Al last before purchasing any plates, make sure to verify whether it is oven safe or not. It not only offers a safe cooking experience but also safeguards your food from harmful chemicals and toxins.