Disclaimer: we may receive commissions from purchases made via our links at no cost to you.
Why we mainly use a toaster oven?
Well, commonly, we use it for roasting, baking, and toasting.
Did you ever try a toaster oven for warming leftover food?
It might be a peculiar question for you all, but it is possible to warm your food on a plate before serving.
Wait! Can you put a plate in a toaster oven directly?
There are certain factors that one must consider before warming food on a plate in a toaster oven. This post will discuss every detail about safe food warming on a plate for everyone.
Can You Put a Plate in a Toaster Oven?
Yes, you can put a plate in a toaster oven if the manufacturers certify that their plates are oven safe.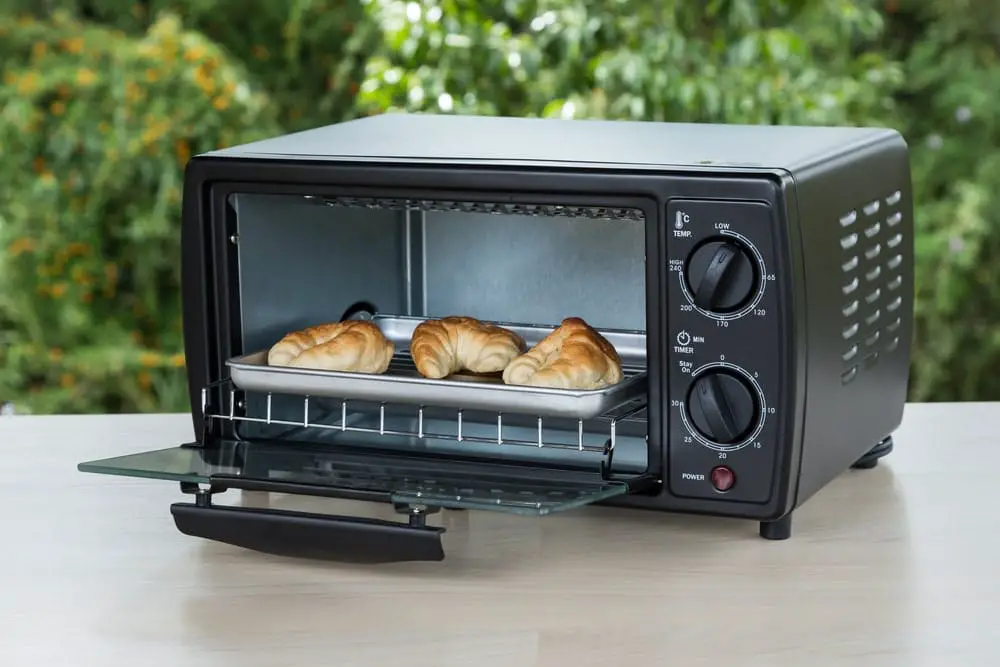 Always choose plates that come with an oven-safe symbol in its user manual. Read every single specification carefully before purchasing the set of plates.
In general, plates made up of ceramic, metal, or glass comes with oven-safe characteristics.
What Plates Are Safe to Put in a Toaster Oven?
It isn't easy to choose oven-safe plates just by comparing the materials. There are some popular materials available out in the market which come with oven-safe properties. However, we recommend you check the manufacturer's manual for safe heating.
(i) Can You Put A Ceramic Plate In The Toaster Oven?
Ceramic is a material that can withstand excessive heat without losing its stability. So, plates made up of ceramic can potentially perform best with toaster ovens.
These plates are precisely designed to serve all extreme heat, food processing, and much more. On the other hand, the stoneware plates and earthenware plates ship with similar characteristics.
But if you want a durable heat-safe plate with a polished surface, then ceramics is the only option around.
As per user review and analysis, it is also true that ceramic dinnerware suffers from cracking issues because of uneven oven heating. To eliminate the cracks' risk, always go for sturdy, thick, and durable plates to deliver the best oven-safe performance.
(ii) Can you Put Glass in Toaster Oven?
There are glass plates that work perfectly with all types of ovens only if they are label oven safe. In general, not all glass dishes are oven safe, allowing manufacturers to serve premium-looking galls dishes at an affordable price.
Moreover, there are some authentic brands which promise its customer with ovenproof galls dishes. These glass plates ensure safe heat sustainability with the maximum temperature mentioned. Always pick the one with maximum heat stability for superior results.
If you are not confident about your glass plate quality and oven-safe characteristics, we all suggest using a small oven-safe galls ware to warm your food. Never try to perform experiments with unknown glassware as it may lead to a severe injury.
(iii) Can You Put A Metallic Plates In The Toaster Oven?
Indeed, metallic plates made up of stainless steel and aluminium are not great in offering premium looks and feel. Moreover, metal plates are also not as popular as ceramic and glass plates.
But what makes metal plates most preferable is their durability and stability to perform safely with the toaster oven.
While reheating food using an aluminium-made plate, make sure that your aluminium plate must not touch the oven's heating elements. In the case of stainless-steel plates, you can use them directly inside a toaster oven if the manufacture mentions that their product is oven safe.
Plates You Should Never Put in a Toaster Oven
It is not always safe to use all types of plates in a toaster oven. There are certain materials that you should never try to put inside an oven. The below-mentioned materials can cause severe injury or accident are used for heating food.
(i) Can You Put A Plastic Plates In The Toaster Oven?
In general plastic, plates are not meant to deal with hot food or heating food. Even using plastic plates for daily food consumption accelerates the risk of food poising issues.
Well, multiple premium brands offer superior plastic plates suitable to withstand 400 degrees of heat. But still, these plastic plates are not safe to be used in a toaster oven.
(ii) Can You Put A Styrofoam Plates In The Toaster Oven?
The main purpose of using Styrofoam Plates is to store cold food. The material is also not oven-safe because, as per research, Styrofoam tends to melt at about 212-degree Fahrenheit.
Moreover, if you use Styrofoam plates at extreme temperatures or store hot food, it will start deforming. The plates not only melt but also release harmful chemicals and toxic elements into your freshly cooked food.
(iii) Can You Put a Paper Plate in a Toaster Oven?
Most of us prefer to use eco-friendly paper plates for day-to-day use. But if you plan to use paper plates for heating food in a toaster oven, it's better to drop the idea.
As a toaster oven is small in size, which creates a high risk of plates touching the heating elements. If in case the paper plate touches the heating element, it can set your kitchen on fire. So, for safe cooking, we recommend not to use the paper plate in a toaster oven.
Suppose if you somehow manage the paper plates not to touch the heating elements still, it can catch fire under extreme temperature. So, paper or cardboard plates can never be used in a toaster oven, even at low temperatures.
Final Words
We hope you got a precise idea of what to use with a toaster oven. Similarly, there is no chance of using paper or cardboard, Styrofoam, and Plastic-made plates with a toaster oven.
Meanwhile, we can't be 100% assured to use ceramic, metallic, or glass plates direct inside a toaster oven unless the manufacturer certifies oven-safe features with them.
Al last before purchasing any plates, make sure to verify whether it is oven safe or not. It not only offers a safe cooking experience but also safeguards your food from harmful chemicals and toxins.