This post contains affiliate links. When you buy through our links, we may earn a commission.
Foreword : The secrets of Japanese Cuisine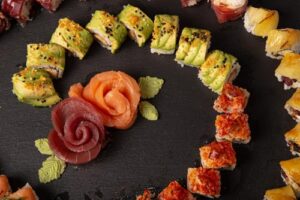 Japanese cuisine goes far beyond the traditional miso soup and rice dishes. It encompasses seasonal ingredients which pivot the variety of the meal spread throughout the year.
It has developed over the centuries. And although a fraction of it has been devoured by the world, the depths of its secrets are molded on the walls of the local kitchens.
Japan is located in the northwest Pacific Ocean and is an island country in East Asia. Its border lies in the Sea of Japan to the west and extends from the Sea of Okhotsk in the north. Taiwan and the East end of the China Sea are located in the south of the island. Its capital is Tokyo which is the largest city in the country.
This country has a display of mountainous terrains and narrow coastal plains. It has eight traditional regions, which offers a vast array of authentic Japanese recipes using local ingredients. Traditional staples that complement this magnificent cuisine include Japanese noodles, rice, and seafood.
The Japanese curry has its roots in British India and is one of the countries national dishes aside from sushi and ramen. Mochi and red bean paste are used to make their traditional sweets with green tea ice cream being more of modern culture.
Japanese cuisine includes authentic alcoholic beverages that are brewed from rice. The age-old secrets and techniques of its fermentation process have been passed through generations. The Japanese tea ceremony is an event that pays tribute to the Matcha, the Queen of beverages in the country.
Enjoy a 60-minute cooking and shopping session.
Despite how big the bite is, the sensational experience in every mouthful of sushi is indescribable. Not everyone acquires the taste, but for those who do, it's an incredible delight.
Sushi is as close to art as food gets, and not everyone has the skill to make it. It requires the perfect ingredients with a strategic technique that is practiced in local kitchens around Japan.
Allow us to bring Japan to you with your chef, who shares the secret tricks of the authentic Japanese cuisine trade. It's an easy step-by-step demonstration that will blow your mind.
Prepare to be mesmerized, in a state of not only wanting to eat sushi or enjoy mouthfuls of heartwarming soup but to build confidence to make it yourself.
Book your session now for an unforgettable date night because… "Sushi" makes "Miso" happy!
Here's what you'll need to cook along with your chef:
Sushi Roll
75g uncooked Japanese rice
82 ml water
1 sheet of nori seaweed
Wasabi (optional)
Ingredients you might like to add to your roll: tuna, cucumber, radish sprout, toasted sesame seeds
Miso soup
2 cups water
3g Bonita flakes
2 ½
Tablespoon miso
½ kelp
Ingredients you might like to add to your soup: Shiitake mushrooms, Enoki mushroom, Tofu
"Shop and Roll" in this 50-minute private session
You've got to use the right bait to catch the big fish, right? Why not indulge yourself in this glorious sushi-making session and perfect your skills.
Learn the techniques of partnering seaweed and rice with a delicious and delicate center. It sounds like a match made in the deep blue sea created in the land of the living!
Lure your partner into a date night session if he or she is a sushi lover. Yes, you heard right!
Make the next date night a sushi affair with this virtual cooking session. Create unforgettable moments in your kitchen as we bring Japan to you. Sushi is the bait, and Tokyo is the destination. Make sure that you're geared up to enliven your date's taste buds.
Add a dash of wasabi or soy sauce to create an infusion of delightful bursts of flavor with an acquired texture. Sushi is an out-of-this-world experience, and there's no turning back once you learn the technique of making it. Once eaten, the craving to learn the art of making sushi becomes an obsession.
Enjoy a "rice to meet you" interactive session with your skillful host. It takes style and charisma to perfect sushi making, so why not join and learn about the techniques. The addition of Japanese egg omelets is a bonus in this session.
Here's what you'll need to cook along with your chef:
Sushi Rolls and Sushi balls (1 person)
Sugar

Salt

160g Japanese rice

15cc rice vinegar

Cucumber

Imitation crab meat

Nori sweetened sheet
Japanese egg omelet
Sugar

Salt

3 eggs

Vegetable oil

Optional: Mirin or sake
People who read this article also liked:
Awaken your senses with this authentic Japanese culture experience.
Enjoy a 40-minute session of the historic Asakusa district of Japan. Offering an array of cultural destinations in the energetic city of Tokyo, this virtual experience is the answer to a pandemic that's still at play.
Explore Japan on this fantastic online tour with a knowledgeable tour guide. Allow us to bring this energetic city to you! A mystery kit of themed items awaits you on this tour!