This post contains affiliate links. When you buy through our links, we may earn a commission.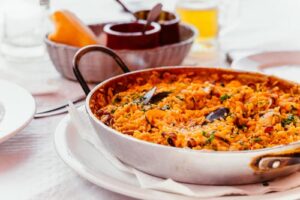 FOREWORD : The Marvels of Spanish Cuisine
Spanish cuisine is for the daredevil foodies who love a blend of herbs and other aromatics to tickle their palates.
Its centuries-old kitchen secrets have developed a continental-style cuisine and mid-morning snacks seem to be the name of the kitchen games.
They're big on lunch too, and their tables are always set with a variety of scrumptious dishes. Wouldn't it be nice to be a part of the feast?
Well, the kitchen fairy has brought along the secrets of the pot-smacking Spanish cuisine just for you.
In Southwest Europe, Spain is encased by the Atlantic Ocean, the Mediterranean Sea, and Gibraltar, with its continental European territory the Iberian Peninsula.
Its capital and largest city is Madrid. Spain has a diverse mixture of cultures dating back thousands of years to Iberian, Celtiberians, Vascones, Occitan, Turdetani, Roman, and Celt people. These cultures have an extensive influence on present-day cooking.
Spain celebrates numerous festivals throughout the year, and its palate-pleasing cuisine is always a part of the celebrations. Spanish cuisine has an extensive history and is born from differences in climate, culture, and geographical aspects.
It is influenced by its shoreline as seafood is a huge part of its mouthwatering dishes. The coastal regions are known for their exquisite seafood dishes that consist of a variety of soups, fried fish, and rice dishes such as Paella.
The inlands of Spain are known for their cuisine, which consists of garlic, thick soups, stews, cheeses, bread, and traditional Spanish ham. The Northern coast of Spain or Atlantic Spain is famous for Asturian, Cantabrian, Galician, and Basque cuisine. These dishes include fish and vegetable stews, cured ham, and shellfish dishes.
A 60-minute private cooking and shopping session with Professional Local Chef Josh Weitzer
Are you looking for a perfect date night to impress your other half? Why not try this fantastic Savoury Paella session from the shores of Spain.
Allow us to bring Barcelona to you so that you can put into play all the age-old tricks of its cooking trade. Impress your partner with this virtual cooking class, and together with your personal chef, you can enjoy an enchanting cooking rendezvous.
If you're doubtful about your ability to create a magnificent paella dish, then this live session is for you. It's a step-by-step learning experience that will have you in awe of the result.
Don't like to cook? Why not gift this session to a special friend or family member.
It is an unusual gift that all will appreciate. What better way to spend the day than on an interactive virtual class with the master trickster of the paella trade.
Book your session now and enjoy the fruits of this authentic Spanish rice dish. It is a practice that will sit with you for years to come.
Here's what you'll need to cook along with your chef:
1 cup Paella rice
1 – 1 ¼ Quart fish stock, warmed
6-10 ounces of cuttlefish or squid cleaned and chopped
1-2 shrimp per serving
2-3 clams per serving
2-3 muscles per serving
1 medium tomato chopped, or canned tomato
½ cup red or green pepper chopped
2 cloves of garlic minced
1 teaspoon paprika
10 strand saffron
¼ cup olive oil
Water, white wine, or brandy for deglazing
Salt to taste
A 45 minute private cooking and shopping session by Professional chef Josh Weitzer
A zesty palate teaser, this scrumptious Gazpacho is a summertime marvel that cools and refreshes the palate with the authentic flavors of Spain.
Healthy ingredients that offer mouthfuls of deliciousness, this dish is a compliment to Spanish cuisine. It is a tasty meal, and you get to walk through its makings with your own personal chef.
Why not turn it into a family affair as we bring Barcelona to your very own kitchen?
It is a quick and easy meal to prepare, and the kids will be enchanted with this virtual cooking expedition. If not, you can gift a session to your friends and family.
It is an unusual gift that is not predictable, and you can rest assured that your gift idea will be remembered.
Create great impressions by learning how to make Gazpacho with the trick and techniques of the trade straight from the horse's mouth.
It's time to make beautiful family memories in the comfort of your kitchen so book your private session now!
This one is for the plant eaters! Tantalize your palate with this flavorful Vegan Paella.
This interactive online session helps you to create an authentic Paella dish in the comfort of your kitchen.
Allow us to take you to Spain and get ready to learn the secret techniques of the paella trade.
So what if you're not vegan. No problem there, as you can always gift a personal cooking session to your vegan friends and families. Is there a plant-eater in your life that has a special occasion coming up?
Why not surprise them with this magical cooking class. It's an unusual gift different from the wrapped boxes that we're all used to, so why not take it up a notch this time.
Book your personal session now or gift it to that special someone. It's going to be a magnificent Paella affair, I tell ya!
Here's what you'll need to cook along with your chef:
1 cup Paella rice
1 – 1 ½ Quart vegetable stock
Mixed vegetables of your choice, sliced or diced
1 large tomato chopped
2 cloves of garlic minced
1 teaspoon paprika
10 strand saffron
¼ cup olive oil
Water, white wine, or brandy for deglazing
People who read this article also liked:
Discover the historic Gothic Quarter of Barcelona
Enjoy a spectacular experience in the historic Gothic Quarter of Barcelona with a knowledgeable guide.
Discover the area's history in this engaging session as your personal guide takes you through a breathtaking exploration!
This video is designed for the curious minds who will appreciate an array of Roman historical gems and spectacular Cathedrals.